5 tips for choosing your sunscreen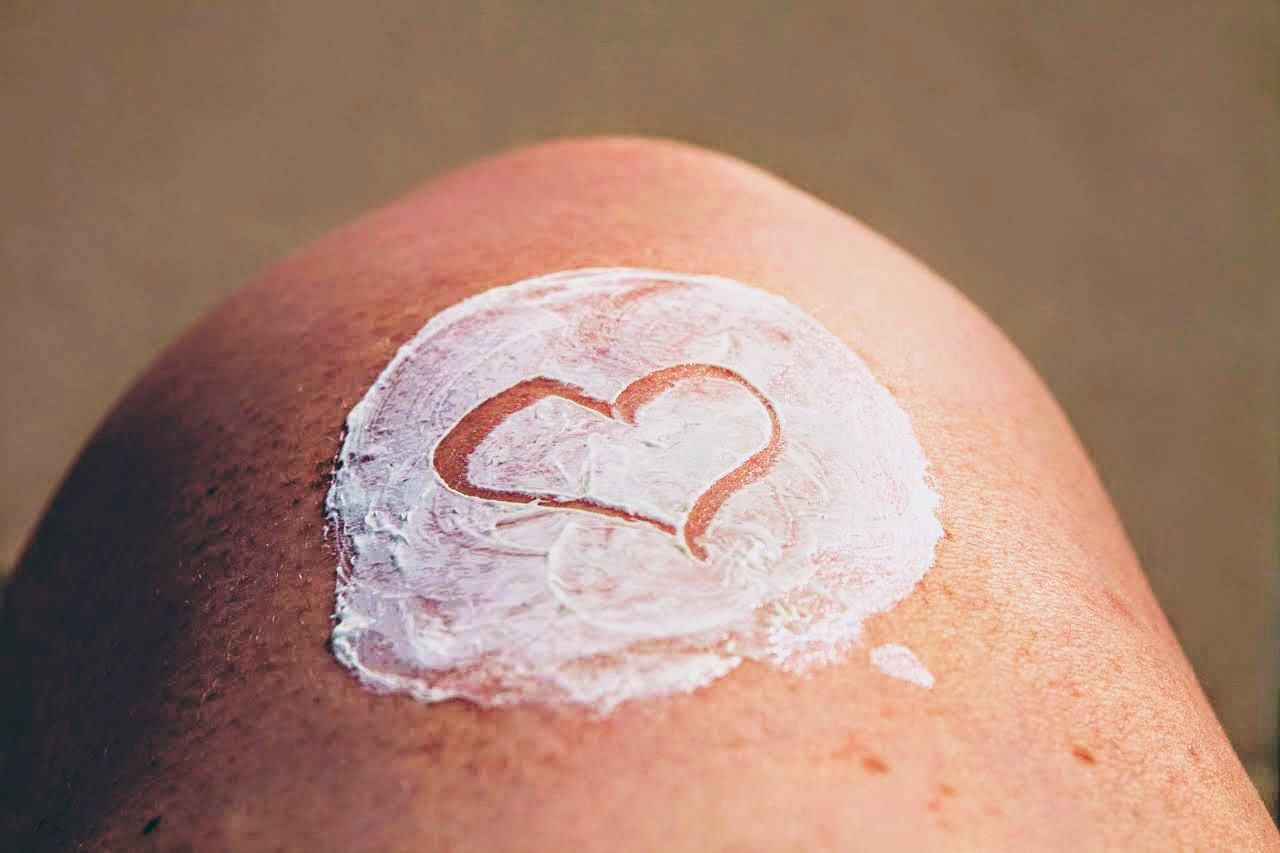 Worried about the products you put on your skin?  A desire to act in favour of the environment?
Here are two good reasons to be interested in the components of your sun protection!
Tips for choosing your sunscreen for this summer:
1-Avoids chemical filters
These organic chemical compounds absorb UV rays to protect us from the sun, but at what cost? Our body absorbs 60% of what is applied on the skin and these chemical filters unfortunately do not exceptions… These are water-insoluble solar filters recognized as endocrine disrupters.
Endocrine disrupters are responsible for major health problems such as infertility, abnormal development of the fetus, early puberty, cancers, diabetes, obesity, neurological problems, learning disabilities and I Password.
The quantity per product and minimal will you tell me, of course, but over the years, these substances accumulate in large quantities in the organism, a cumulative effect that eventually disrupts the normal functioning of our hormones and imbalance the Functioning of our Organization.
Here are the names of the substances to avoid in your sunscreen product:
WTO: Octyl-Methoxycinnamate 
Benzophenone-1 • Benzophenone-2 • Benzophenone-3 (Oxybenzone)

Benzylidene camphor (3-BC)
4-MBC: 4-Methylbenzylidene: This substance is permitted in Europe and Canada but remains banned in the United States and Japan…
Retinyl palmitate: A derivative of retinol, vitamin A found in many cosmetic products (anti-wrinkle creams, lip balms, styling gels, body milks… and sunscreen) because of its antioxidant properties.
In addition, the chemical filter sunscreen will clog the pores of your skin.
2-Opt for mineral filters
Also called physical screens, they are made using mineral powders. They remain on the surface of the skin to create a protective barrier that reflects UV rays by preventing them from penetrating the skin. (Mirror effect)
Among the mineral powders, zinc oxide and titanium dioxide are the most common.
3-avoids substances with nanoparticles
Nanoparticles are substances reduced to a microscopic aspect that can easily penetrate the blood. Their size is between 1 and 100 nanometers. They have been developed to avoid the white trace effect of sun creams as well as to facilitate their application.
To avoid them, nothing simpler, you just have to look at the composition of your sunscreen, if you detect the word [nano], it is better to trace your route.
It should be known that for the organic sun protections, the use of nanoparticles is regulated, they are prohibited below a certain size (100 nanometers),
4-Opt for a solar protection rich in vegetable oils
Some solar protections incorporate in their compositions vegetable oils that naturally protect from UV rays.
This is the case for example of the vegetable oil of Jojoba found in the compositions under the name Simmondsia Chinensis seed oil, or also the oil of Calophyllum or Tamanu (Calophyllum Inophyllum seed oil).
5-Think about the environment
Buy your solar protections thinking about your ecosystem! Indeed the majority of solar products currently on the market are extremely harmful to the seabed.
The corals are gradually disappearing, threatening many species that populate these habitats.
Many chemicals have been found in the fish, the same fish that is then found on your plate…
Organic sun creams are not perfect, but they are designed to greatly limit the pollution of ecosystems, packaging is also generally recyclable.
Also prefers sunscreen in the form of cream or oil, the sprays pollute the atmosphere more.
Our selection:
After analyzing several of our solar protections, we chose those of the brand ALPHANOVA.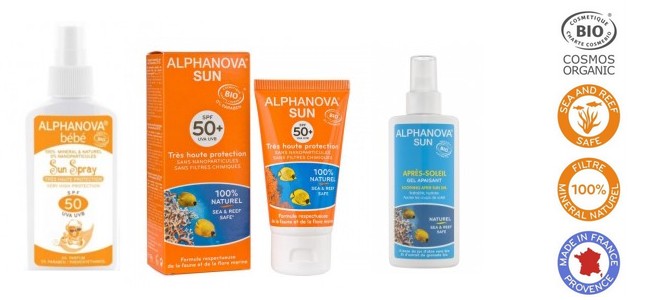 . Alphanova What is it?
Safe formulas
Organic sun creams Organic ingredients containing aloe vera, Jojoba oil or Tamanu.
100% Mineral Filters – non-Nano.
Without a chemical filter.
No chemical preservatives.
A range of organically certified solar treatments by ECOCERT.
Natural and organic solar products providing effective protection while respecting the environment.
Sources:
multigenerational effects of 4-Methylbenzylidene camphor (4-MBC) on the survival, development and reproduction of the marine copepod Tigriopus japonicus. PubMed: National Library of Medicine of the United States
Induction of chromosomalic aberrations and micronuclei by 2-hydroxy-4-methoxybenzophenone (oxybenzone) in human lymphocytes-Drug Chem Toxicol. 2018 APR 12
Http://www.sabotage-hormonal.org/spip.php?article15