How to properly use micellar water for your skin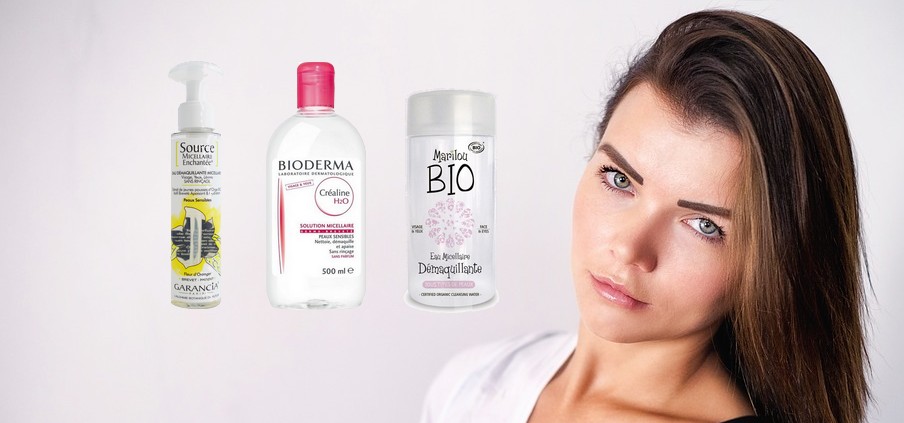 Micellar Water is a small cosmetic treasure for your skin. Micellar water is a makeup remover that acts both as an oil, and as a water, thanks to the micelles it contains. Micelles are an aggregate of molecules that are for some, in affinity with water (hydrophilic), and for others, with sebum and makeup (lipophilic). It is this molecule in affinity with fat that will act as a "magnet" and remove your makeup.
How Micellar Water Works
The Micellar water is composed concretely of particles that take care of capturing the fat and dirt of the skin of the face as magnets, while respecting the natural layer of protection of the dermis. This is why it is a perfect facial cleanser and, at the same time, it removes makeup. The main benefits of Micellar water:
It is a hypoallergenic product without alcohol and fragrances, so it does not cause irritation.
It has a soothing and purifying effect for the skin.
Micellar water allows to remove long lasting makeup
No need to press to apply it or rinse it.
It involves saving money because it is a 2 in 1 product for facial cleaning.
The Micellar water takes its name from the micelles. These are small round cleaning balls composed of molecules that float in the water. When you apply micellar water to your skin, cleaning agents come in contact with the oil and dirt from your face, allowing you to form the micelles, and remove the dirt quickly and efficiently. And it is all the specificity of water micellar cleansing: Combine the freshness of an aqueous solution with the efficacy of cleansing oil. Its formula without soap and often without perfume or emulsifying, allows to maintain a pH balanced. This gentleness does not alter its cleaning power. An easy and gentle demakeup gesture, requiring no rinsing. Soothing, micellar water is often appreciated by women in search of a mild makeup remover: Ideal for any type of skin, it is indeed particularly suitable for sensitive skins. Fresh, slightly foaming, it is no less effective in removing the makeup – even tenacious – but also eliminating fats, impurities and traces of pollution. For the comfort of an optimum and delicate cleaning. With the application of facial care, there is no tingling or tightening, and micellar water is powerful enough to remove eye makeup, so there is no need for another makeup treatment.
How to choose your micellar water according to your skin type
To know your skin type, we invite you to read the article "How to Determine your skin type". A cleansing micellar water is particularly suitable for the care of sensitive skins. But there are many micellar waters, more specific to oily, dry or sensitive skins.
For normal skins: If your skin does not appear to be particularly greasy, and it is resistant to most ingredients, you will be able to choose any type of micellar water! This facial treatment will maintain the balance of your skin, and cleanse and removing makeup easily. Your skin will be nourished and hydrated.
If you have a dry skin, a classic makeup remover can accentuate your dry skin. Fortunately, there are micellar waters that in addition to having astringent properties, are going to be associated with other ingredients to moisturize and soothe the skin. It will therefore be necessary to choose a water micellar moisturizing, to maintain the hydration of your skin! For oily skins: If you have oily skin, whether it is right on the forehead, nose, chin, or everywhere, your goal is to regulate excess sebum.  Micellar Water in addition to removing makeup, will mattify your skin, to leave it soft, smooth and without gloss. By using a formula that can help reduce excess sebum, you will help your skin to fight, and prevent blemishes while gently cleaning your skin, and remove the makeup and dirt of the day for fragile skins: if your skin With a tendency to be very reactive, you will need to look at two things before choosing your water micellar: it must be that the formulation is without fragrance, and that it does not require any friction the water micellar will leave a sensation of gentleness on Your skin, and it will be soothed after cleaning. By using an effective formula, the makeup will be easier, and you'll be able to risk irritating your skin.
How to integrate micellar water into your daily routine?
Here are the good things to do for healthy skin:
In the morning to awaken and tone your skin: it is imperative to clean his face at the beginning of the day, in order to rid the impurities released by the epidermis during the night (sebum, pollution, toxins, etc.). For lack of cleaning, pores become clogged, your skin is less sharp, your complexion duller, and blemishes may appear. Thanks to the use of micellar water, your complexion shines naturally as your skin breathes.
A neat application: Let the micellar water sit for a few moments so that the Surfactants act and dissolve the impurities. Use a soft cotton and light circular movements on the face as a whole, not forgetting the lips and eyes. No need to rub but continue until the cotton is spotless.
In the evening to remove your makeup and clean your skin smoothly. : Make-up and/or cleaning remain indispensable. Making clean skin before bedtime allows your skin to regenerate during your sleep, and therefore to be purified. Makeup, or simple creams, pollution, etc. So many aggressors that stick to the epidermis and prevent it from renewing itself. Reactive skin, an impression of tightness or drought, imperfections type blackheads, a blurred complexion… testify to cellular dysfunctions that you can avoid by eliminating these impurities – thanks to the micellar water.
In each area of the face its specificity: the eyes are often a part to be preferred, which requires a deep demakeup (especially if you use waterproof mascara and eyeshadow) but also a fragile and delicate area. So rather than rubbing with aggressive products, micellar water remains the ideal ally of a powerful but lightweight makeup, which allows to decongest these sensitive areas.
Toning: Micellar water does not require rinsing, but if you want to strengthen its action, tighten your pores and vivify your epidermis, do not hesitate to continue your ritual by applying a tonic, for example a floral water.
And also arises the question of rinsing… Micellar water contains surfactants, but also other components, which, if not rinsed, remain on the skin.
Surfactants, there are in the majority of products (milk, cream, lotion,…) that we use, and yet they are not rinsed after having applied them, so why rincerions we micellar water? If these surfactants are to clean the skin and rid it of all its impurities, if it is too sensitive they will risk attacking it. It would therefore be better to rinse it so that these substances do not irritate the skin.
As with all cosmetics, it is preferable to opt for a water micellar certified organic cosmetic. Its natural formulation thus contains a regulatory percentage of ingredients from organic farming. Respectful of the environment, it excludes any risk of allergy.
Product Coup de coeur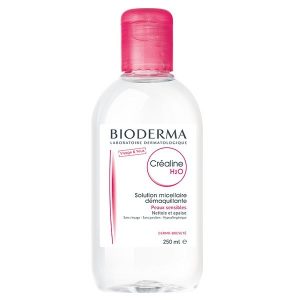 Biodermal Sensibio H2O Solution micellar is a cleansing micellar solution for normal to dry sensitive skin. Formula without perfume. No alcohol. No phenoxyethanol. The skin gets rid of impurities and excess sebum for a clean skin sensation.
Sources
1-http://www.paulette-magazine.com/fr/article/comment-bien-utiliser-l-eau-micellaire/4429
2-Http://www.journaldesfemmes.com/beaute/soin-visage/1450992-comment-utiliser-l-eau-micellaire/
3-https://www.grazia.fr/beaute/tendances-beaute/eau-micellaire-comment-l-utiliser-au-quotidien-817228 4-http://www.lesgommettesdemelo.com/2017/07/test-avis-sur-les-eaux-micellaires.html