Skin Food Weleda to the rescue of dry skins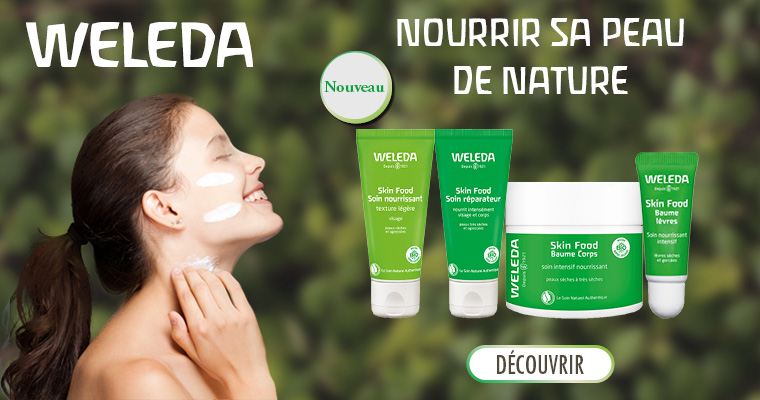 After more than 90 years of expertise, Weleda has made use of its know-how to expand its Skin Food range. His status as an indispensable player in the homeopathy and herbal medicine market has allowed Weleda to position itself as a true pioneer of natural and organic cosmetics as well, the only cream in the skin Food cream range, a herbal repair treatment Natural and organic Medicinals is joined by three other products: a complete care ritual for the face and body adapted to dry skins up to very dry. Tolerance and efficacy tested clinically under dermatological control.
The natural assets of the skin Food Weleda range
Nutrients:
Sunflower seed Oil,
Lanolin, also known as "wool Wax", is a thick and waxy natural oil found in sheep wool
Beeswax
Shea butter
Plant extracts:
The Rosemary Leaf
The Chamomile flower
Wild thought
The Flower of Calendula
Skin Food Light Texture Nourishing Care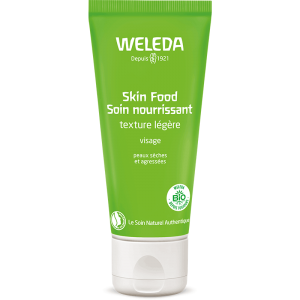 This new nourishing skin Food treatment is a more fluid version than the original thanks to its light and creamy texture. What are the results of nourishing skin Food light Texture care? → This skin Food light texture treatment ensures deep nutrition. In contact with the skin, it instantly soothes it and forms a protective barrier against external aggressions such as cold or pollution. In addition, this protective film helps to minimize the loss of water at the level of the skin in order to guarantee optimum hydration throughout the day. A day cream to be adopted daily that can be applied in combination with other Weleda products, but also before makeup!
Skin Food Weleda Body Balm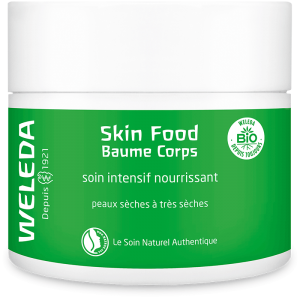 This Skin Food Body Balm offers a unique sensory experience thanks to its texture comparable to that of a whipped butter. To its application, it melts delicately without leaving a greasy film and leaves behind a captivating fragrance with the unique fragrance consisting of extracts of benzoin, orange and lavender. To use after the shower, it offers a privileged moment with oneself. A true wrapping of softness that leaves the skin soft, nourished and soothed.
Skin Food Weleda Lip Balm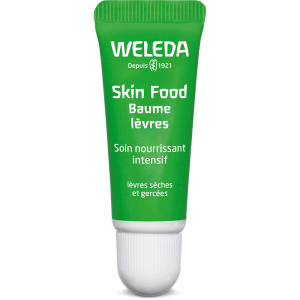 offer a herbal ointment to your lips with this new Skin Food Weleda lip balm. It will be an ally of size to slip in your purse during the cold and dry days of winter. Its application allows:
Nutrition and hydration of dry lips
Chapped Lip Repair
Drying protection
On a daily basis, this lip balm brings softness, flexibility and nutrition.
Skin Food Weleda Repair Treatment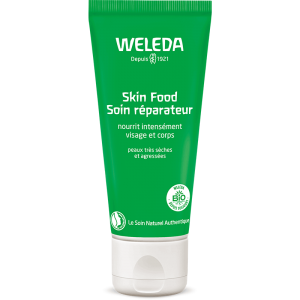 This healing skin Food Weleda has a smooth texture that provides soothing and protection to sensitive or irritated areas of the face, but also to the body. It adapts to all types of skins and is suitable for children as well as adults. It owes its virtues thanks to its ultra-concentrated formula in herbal extracts. A use of the Skin Food Weleda repair treatment allows:
Protect and repair skin that has been attacked or exposed (cold, sun…)
Feeding dry or rough areas (hands, elbows, knees, heels)
Preserving the skin from drying out and moisturizing it intensely
Alleviate feelings of discomfort
Through its skin Food range, Weleda makes us a promise: to feed and repair the most hungry skins.