Immune defences and herbal medicine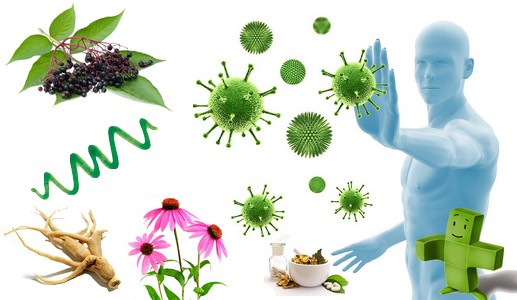 Strengthen your immune defenses through herbal medicine
The cold and the microbes of winter put the immune system to a strain. Colds, angina, nasopharyngitis, flu…, many are the ills that the body has to face. In order to strengthen your immuniatires defenses, your pharmacy will advise you to use the natural medécines well. Herbal Medicine (health by plants) has specific applications that can improve your daily health, including strengthening your immune system. Découvrrrez through this article the different ways to strengthen your immune system using natural remedies such as echinacea, ginseng, black elderberry, spirulina, Sea buckthorn, grapefruit seed extract.
Echinacea
Echinacea is a native North American plant used for its suspected immuno-stimulating action in the prevention and treatment of colds, flu and respiratory infections. This is the first plant recommended by herbalists doctors in the prevention of infections and episodes of recurrence. Originally from North America, Comanche and Sioux used it to cure infected wounds or snake bites. Later, in the nineteenth century, it was imported into Europe and then cultivated on the mainland. Since bacteria have been resistant to antibiotics, it has been the subject of a great revival of interest. Many studies have also sought to understand its mechanism of action. It remains complex-in the image of our immune system-because Echinacea acts on several domains: stimulation of macrophages (killer cells of toxins and intruders), increase in the number of white blood cells, protection of healthy cells Against germs… It is mainly in the form of EPS that it would be the most effective, from 6 to 8 weeks maximum, because in the long run it decreases on the contrary immunity. It is contraindicated for certain diseases (autoimmune diseases, HIV/AIDS…) or in certain treatments (corticosteroids, chemotherapy, etc.).
Ginseng
Of Asian origin, ginseng exerts a general tonic action on the organism. It has a reputation for stimulating immune defenses and thus helping the body to defend itself against aggression and imbalances. Ginseng is in the form of dried root powder (in capsules) or whole roots used in decoction. A daily dose of 0.5 to 2g or 4g depending on the species is traditionally recommended, with each cure not exceeding three months.
The Elder
The elder is a arbustre exedant not 6 mètresde high at the trunk and the branches caratérisés by a thick white marrow. It has deciduous leaves composed of 5 to 7 leaflets and tiny white and fragrant flowers arranged in highbush. The fruit is a black and round bay. The untilisées part in medicine is the fruit. Black elderberry can be useful in the case among others to relieve and even cure immune diseases. It is advisable to use the berries of elderberry (Sambucus nigra) in the child. It is not only immunostimulant, it is also antiviral. Children love it in the form of syrup or EPS. It is advisable to take these plants every 2 hours until the end of the infection. Close-up catches are essential for maximum efficiency.
In adults, 1 teaspoon of echinacea tincture every 2 hours in a little water up to 5 outlets per day.
In children, 1/2 teaspoons of syrup or EPS of elderberry berries every 2 hours in a little water up to 5 outlets per day.
Spirulina
Spirulina is suitable for everyone. It is recommended for people with physical and intellectual activity, for athletes, in case of pregnancy and for breastfeeding, accompanying a slimming programme, vegetarians, for children and the elderly: Spirulina is thus consumable by all. The benefits of Spirulina are numerous and varied, especially spirulina is used in tablets to reduce stress and strengthens immune defenses. Spirulina is recommended during a fast or a diet of elimination of toxins (detox) in order to strengthen the immune defenses and to improve the general well-being. Because it is rich in antioxidants, the organic Spirulina in capsules is effective in combating disorders related to cell oxidation. It is recommended to take 4 tablets of organic spirulina per day and to ensure a varied and balanced diet and a healthy lifestyle. Spirulina will be very useful to future moms or after the grossessepour replenish their health capital and quickly find the line without suffering from deficiency.
Grapefruit Seed Extract
In liquid form, the
grapefruit extract is
a natural antibiotic that increases the resistance of the organism. In particular, the EPP contains vitamin C which strengthens the Immuniataires defenses and plays the role of a real anti-fatigue and vitamin E, which protects from premature ageing. Grapefruit seed Extract (EPP) has been considered the best natural antibiotic for fifteen years. And one is right to consider it as such. Since the work of Dr. Jacob Harich, who popularized it in the years 80/90, one could not find better. As can be read in the book Secrets and Wonders of grapefruit (aux Ed. Medici), one of the many books that have been devoted to the topic since the beginning of the yea
rs 90, grapefruit seed l"hui
le has an equivalent or superior effect to the most potent antibiotics and antimycotics. This has been proven by international research teams in comparative tests.
Sea Buckthorn
The fruits of sea buckthorn are exceptionally rich in vitamin C, with a concentration 5 times higher than that of Kiwi and 30 times higher than that of orange! Vitamin C stimulates the immune system; Vitamin E reduces the risk of infection. No contraindications to sea buckthorn berries are known to date. It is advisable to use sea buckthorn syrup a
nd sea buckt
horn juice to strengthen your immune defenses for tired, overworked or convalescents, school children, athletes and smokers-but also in the fall, for Strengthen the body and prepare you to face the cold season. Se
a Buckthorn ju
ice is diluted in a glass of water or fruit juice at a rate of 1 tablespoon of juice 2 to 3 times a day before meals, for 3 to 6 weeks. Th
e sea-buckthorn s
yrup is prepared from extracted kiss juice in order to collect the active substances. Rich in natural vitamin C and beta-carotene, it helps the body fight against the effect of free radicals. It is, therefore, an excellent tonic that helps me to regain its vitality and strengthen its natural defenses.
1-seven plants to strengthen its immunity http://www.lepoint.fr/sante/sept-plantes-pour-renforcer-son-immunite-05-11-2013-1752188_40.php 2-what plants to strengthen my immune system? Http://www.e-sante.fr/quelles-plantes-pour-renforcer-mon-systeme-immunitaire/actualite/1234 3-immune system: Stimulating plants http://www.altheaprovence.com/blog/plantes-stimulantes-du-systeme-immunitaire/4-Spirulina, Vitality, immune defenses, energy, resistance, http://www.panier-du-bien-etre.com/spiruline-vitalite-defenses-immunitaires-energie-resistance/5-The truth about the Grapefruit seed http://www.alternativesante.fr/ Pepin-de-grapefruit/la-Verite-sur-le-Pepin-de-grapefruit 6-the benefits of Sea Buckthorn: Practical Guide Http://www.gralon.net/articles/sante-et-beaute/medecine-douce/article-les-bienfaits-de-l-argousier—Guide-practice-4439. htm