First, three essential rules before leaving in the sun this summer with baby:
We try as much as possible to choose our holiday destination… Usually when your baby is less than one year old, you avoid the beach and don't expose it to the sun.
For older children, sun exposure is avoided between 12 p.m. and 4 p.m. Your child is too fragile to counteract DANGEROUS UV rays at this time of day.
To protect your baby as best we can, light clothing is used and as covering as possible. You can also add sunglasses and a wide-brimmed hat. Finally, sunscreen is regularly applied.
Why choose a sunscreen suitable for my child?
Because babies' skin is very sensitive and thinner than adult skin, it burns faster.
For a baby under 6 months of age, sun exposure should be reduced between 11 a.m. and 4 p.m. When you go out, place your newborn in the shade and have them wear a wide-brimmed hat. In addition, equip him with loose, light clothing that covers his arms and legs. Even if sunscreen contains chemicals, it is better to apply a little of it rather than risk your baby getting sunburned.
If you can't keep your baby in the shade, then it's best to put sunscreen on him or her in small amounts. Sunscreen has long been discouraged from a baby under 6 months of age because of his delicate skin, but experts have revised their recommendations after reassessing the scientific evidence. They now advise applying cream wherever the skin is not covered by clothing. However, avoid putting them near your mouth and eyes. For young babies, focus on physical screens.
What are the elements that make up sunscreen?
Even if the names change from year to year, the composition of a sunscreen, it remains quite invariable. Chemical filters or mineral screens (or a mixture of both) embedded in a base, which can be an oil or emulsion, form the sunscreen. In addition, preservatives, stabilizers, free anti-radicals and moisturizers. Mineral screens and chemical filters are often mixed for greater application.
In Europe, about 20 ultraviolet filters are used. The first to be marketed are chemical filters. They penetrate the inside of the epidermis and absorb UV rays.
Their advantages: easy to apply and spread (no white mask effect), effective in terms of protection (they filter a wide spectrum of UVA and UVB), they are photo-stable (they stay on the skin).
Their drawbacks: They can cause allergic reactions, especially in young children and people with very sensitive skin. They pollute the environment (they end up in river and seawater).
The tips for choosing sunscreen for my child this summer?
Even children with very dark skin need maximum protection from the sun's rays. You don't have to buy the most expensive products to protect your child from the sun. There is a marketing part in children's mentions that are often synonymous with rising prices. But here are the main criteria to consider when buying sunscreen for your child:
It is important to obtain a "broad spectrum" sunscreen that protects against the two types of sunlight causing skin damage: UVA and UVB.
It is advisable to choose sunscreen and lip balm of at least 30 SPF in general. If your child has fair skin, you should turn to an SPF above 30. The SPF indicates the level of protection against UVB rays.
Choose organic sunscreens for children: the interest of organic specifications is that they exclude several undesirable compounds; on the other hand, organic cosmetics are not, as a principle, free of allergens. Within the special range of children, the differences are not obvious, from the point of view of composition, between organic and conventional creams. In terms of effectiveness, the former tend to be distinguished by insufficient UVA protection.
If your child is taking medication, ask his or her doctor or pharmacist if a higher SPF is recommended, as some medications may make the skin more sensitive to the sun.
In conclusion
Protecting your child from the sun means renewing the solar application every two hours and after each swim or part of a sand castle. If he took a nap in the shade, the beach towel fabric probably "drank" his sunscreen, so give it to him. Prevention is better than cure! And in this matter, do not hesitate to be generous with the amounts of sunscreen applied, either for a sun spray: 4 pressures in the palm of the hand on the face, 5 to 6 on the arms and 10 on the legs and back.
Our Children's Cream Selection this summer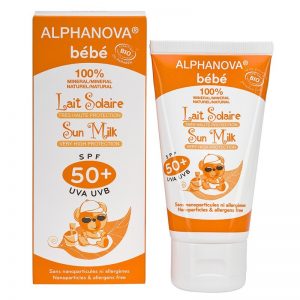 Alphanova Baby Organic Sunscreen: Rich in aloe vera and jojoba oils and tamanu this sunscreen is effective immediately after application. Formed without alcohol, without perfume, without phenoxyethanol or paraben, it is particularly respectful of the fragile balances of the baby's skin. Containing only mineral filters with particles greater than 100 nanometers, without risk of pollution to the marine ecosystem.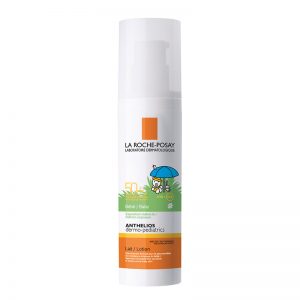 Anthelios dermopediatrics Baby Milk 50 is a sunscreen for the face and body that protects delicate or atopic-prone skin from babies and young children under 3 years of age.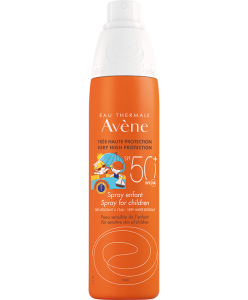 Avene Solaire Spray Child Very high protection of the sensitive skin of the child.
Sources