What shape of bottle nipple should you choose?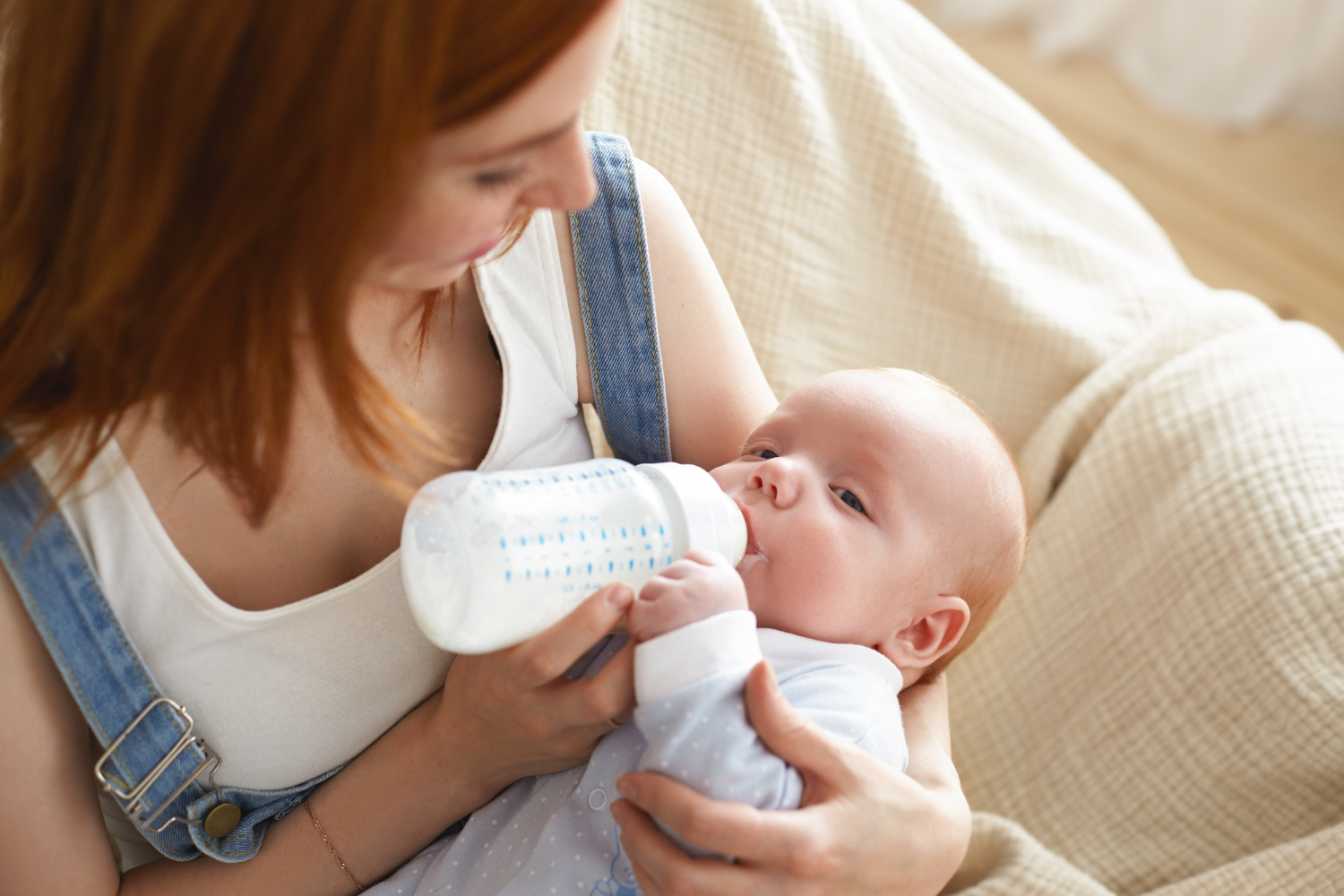 When we are preparing to welcome baby or if baby is already present , a thousand questions are jostling in our head. Adapted diapers, food,… there are many preparations that are essential for the proper development of the infant. Mixed breastfeeding or a transition to a bottle or for thickened baby meals , the choice of pacifier is difficult. The feeding baby is paramount for his health and well-being . Particular attention should be paid to the pacifier for the bottle. A crucial step forensure baby's comfort and allow him to drink safely . We're here to help you choose the right pacifier for your baby.
Rubber or silicone pacifier?
The natural rubber pacifier is easily recognizable with its retro look and amber color. Usually, it is prescribed for infants who have difficulty breastfeeding. Indeed, they will need a softer teat to facilitate the passage of milk. Small flat, its odor a little peculiar . A characteristic which may surprise at the beginning of the use. But most of the time babies adapt very well to it . However, the rubber pacifier wears out faster than the silicone pacifier . But the fact that it is made of natural material presents less risk of allergy to baby.
The silicone pacifier , on the other hand, has a more modern design . Rather intended for gluttonous babies because more rigid , it requires additional effort from the baby when sucking . The flow of milk is more easily controlled to follow the baby's diet . It is completely odorless and its transparent color allows you to check its cleanliness . It is more resistant to washing than the rubber pacifier.
Pacifier speed
The speed of the pacifier is an important factor when purchasing. This is chosen according to the baby's sucking rhythm . It may also depend on the thickness of the contents to prevent the baby from getting tired during the feeding .
From 0 to 6 months , we recommend a flow rate of level 1 or 2. For those exceeding 6 months , or more or less 18 months, the recommended flow rate is 3.
Our selection of the best pacifiers and bottles:
MAM Teat Silicone Speed 2 – Average Flow – Set of 2 : for babies from 2 months or more to facilitate the transition breastfeeding's the breast than the bottle . Its surface is soft as silk and reminds baby of the softness of mom's breast . It reproduces the flattened shape of the nipple when baby sucks. Ultra-flexible and extra-soft , it does not stick during baby's sucking and provides a feeling of comfort and familiarity . It is compatible with all MAM brand bottles.
Mam Pacifier Silicone Rate 0 for Newborn: a start bottle feeding all smooth for your baby. Baby easily adapts to this extremely flexible little pacifier . With a slow and constant flow , it is ideal for the newborn . This pacifier has an air valve to prevent sagging during sucking. Its flat shape is similar to that of mom's nipple. A feature that allows it to adapt perfectly to your baby's small mouth. Compatible with all MAM bottles, it is suitable for both breast milk and infant milk.
Mam Silicone Teat Flow X Thick Liquid Set of 2 : This silicone teat is suitable from 6 months and over . Its soft touch and silky soft surface reminds the softness of mom's skin . Light streaks line the inside to prevent the nipple from flattening during feeding. It is ideal for introducing baby to food diversification. Thus, his first porridge will be a moment of relaxation and pleasure.
Who says pacifier also says bottle, it is essential that it is compatible, preferably of the same brand
Mam Easy Start Anti Colic Flow Bottle 1 Pink 160ml set of 2: From birth to 6 months , its flattened shape is as soft and flexible as mom's breast. This bottle guarantees baby a relaxing feed that combines comfort and design. Adorned with pretty patterns inspired by nature, it captures baby's eyes. It is also very practical thanks to its anti-leak cap . Its wide neck facilitates filling and an unscrewable base allows easy cleaning . This bottle is also provided with graduationssuitable for milk measurements. Its anti-colic system thanks to its patented valve reduces air intake while respecting the baby's breastfeeding rhythm. Something to delight your little one.
Mam Bottle Green 220 ml Transition: From 4 months i l combines functionality and design . With its anti-spill and ultra flexible spout at flow rate 3 (fast). And this, to allow easy passage from the bottle to the cup or from the breast to the cup. With handles to allow baby to hold it well, this little end will be able to drink like a grown-up!