Horsetail, one of the first plants on our planet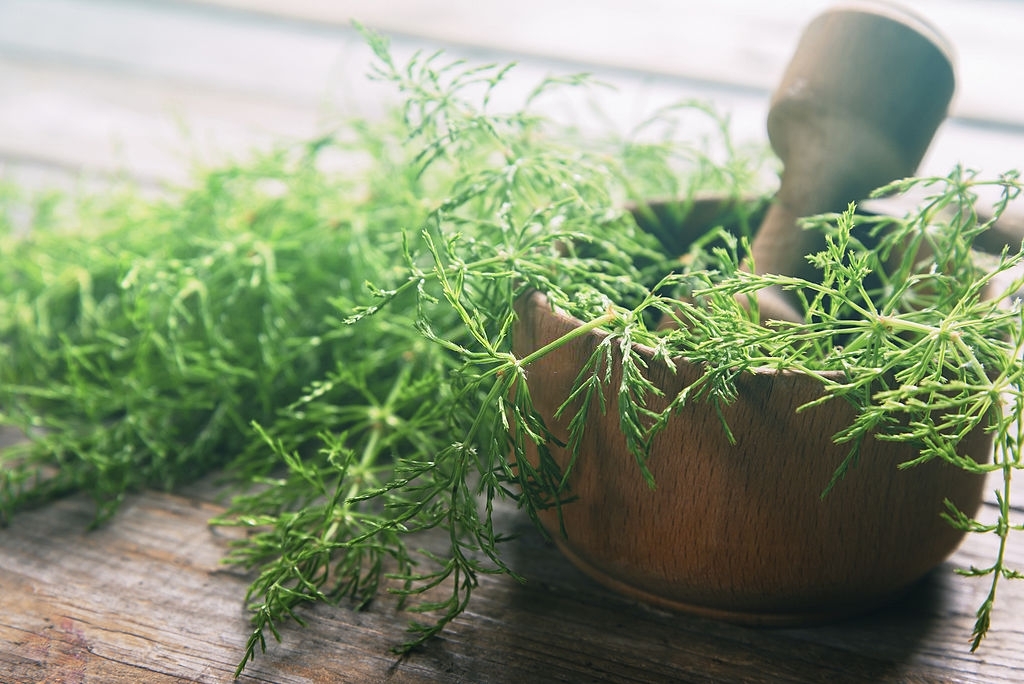 If there is a medicinal plant that we see all summer along the banks of streams, in humid and sandy places, where it likes, it is horsetail. Common, banal in appearance, here is an extraordinary plant , one of those that have survived the ages, just like ginkgo biloba . Because the horsetail is a very old lady of more than 270 million years .
A little history
For having been among the first plants on our planet Earth , and having been able to survive its different geological periods (we find its traces in fossils from the Paleozoic era and in coal), without changing its appearance or taking a wrinkle, it had to be endowed with some special virtues , the very ones that have been sought to be exploited in medicine since Antiquity.
The plant is steeped in history. Its use is so old that it first occupied the field of everyday life before becoming one of the fundamentals of the art of herbal medicine. Admittedly, Pliny the Elder (who nicknamed it "the hair of the earth") and his contemporaries used it in salads of young shoots as a general tonic and restorative.
What are the main pharmacological properties of the sterile aerial parts of Horsetail?
Trophic action on bones and connective tissue (skin, blood vessels):
Several studies show that horsetail can be used as a factor for stimulating osteogenesis. In vitro , E. arvense induces osteogenesis, notably by stimulating the activity of osteoblasts, and by showing osteoinductive activity . In vitro , the plant inhibits osteoclastogenesis, which makes it possible to slow down bone resorption . In addition, a 2003 study shows in vitro that when they are in contact on glass slides on which silica has been fixed, osteoblasts increase their production of type I collagen.
In human medicine, despite a methodology deemed weak, a 1999 randomized trial against placebo, conducted among 122 postmenopausal women, showed that the long-term intake of an extract of field horsetail, or of a combination of calcium and horsetail, is associated with an increase in bone density in participants, more marked than in the placebo group.
Silicon, which horsetail is rich in, promotes bone mineralization , a role highlighted in patients. With delayed bone consolidation. He also showed that a plant complex containing silica from horsetail has an anti-elastase activity (elastin being notably responsible for the elasticity of the dermis).
In humans, a randomized trial against placebo showed the effectiveness of an ointment made from horsetail in treating pain and promoting healing after episiotomy.
Diuretic and urinary properties:
The plant also contains several active ingredients, such as certain flavonoids, which explain its diuretic and hypo-uricemic action . It promotes the urinary elimination of metabolites of flavonoids and hydroxycinnamic acids, polyphenolic compounds present in the daily diet in the form of tea and vegetables.
In a 2014 randomized, double-blind clinical trial of 36 healthy male volunteers, E. arvense extract produced a stronger diuretic effect than the negative control, and was equivalent to that of hydrochlorothiazide , without causing significant changes in the elimination of electrolytes.
Anti-inflammatory, immunomodulating and analgesic properties:
In vitro , a 2014 study showed that E.arvense extract interferes with the polyfunctionality of immunocompetent cells, thereby providing an anti-inflammatory mode of action . In particular, it slows down the proliferation of T lymphocytes, without inducing apoptosis, by inhibiting lymphocyte activation, by a mechanism dependent on interleukin 2. It is associated with a braking of interferon y (IFN-y ). Silica is not the only active ingredient in the plant to explain this activity. Isoquercetin (= isoquercitrin) also exerts significant immunosuppressive activity .
Despite the scarcity of scientific evidence regarding the effectiveness of horsetail in joint disorders such as osteoarthritis or rheumatoid arthritis, the plant has been the subject of clinical studies in humans, summarized in a review of scientific literature of 2017, which ranks it in the list of "joint-friendly" plants.
Antioxidant, cell protective, antiproliferative and anti-infectious properties:
These properties have been demonstrated by several in vitro studies :
A work of 2004 showed that the phenolic pretrosines and the flavonoids isolated from 

Equisetum arvense

 trap free radicals, and protect lines of hepatocytes against the cytotoxicity induced by tacrine (a medicinal substance used in particular to treat the 

disease of Alzheimer's

 ), thus demonstrating 

hepatoprotective activity

 .

In 2007, aqueous horsetail extract was shown to inhibit growth and 

induce apoptosis

 of human leukemia cells.

In 2017, an ethanolic extract of 

E. arvense

 showed cytotoxicity and apoptotic action on lung carcinoma cells.

A more recent study from 2018 also showed that horsetail extracts not only modulate oxidative stress, inflammation, and apoptosis in vascular endothelial cells exposed to hyperosmotic stress, but also induce 

antibacterial activity

 . Furthermore, 

Equisetum arvense

 has activity against Staphylococcus aureus. In 2013, a study had already shown that the plant exerts a fungicidal action on 

Aspergillus flavus

 and 

Fusarium verticillioides

 .

In vivo

 , a 2017 work shows that the ethanolic extract of the plant protects against the 

mutagenic effects

 induced by cyclophosphamide, and 

improves the chromosomal damage

 caused by this substance. This opens the possibility of using horsetail in cancer as a chemopreventive agent or even as a co-adjuvant to chemotherapy to reduce the side effects associated with it.
In humans, this antiproliferative activity could explain the action of E. arvense , in combination with other plant extracts ( Chimaphila umbellata, Populus tremula, Pulsatilla pratensis ), on benign prostatic hyperplasia, with improvement dysuria, despite the diuretic activity of horsetail, as a 2008 Japanese study seems to indicate.
Other properties:
Antidiabetics

Anxiolytics
Are there any precautions for use concerning Horsetail?
Contraindications:
According to the German Comission E, horsetail is not recommended for treating edema of cardiac or renal origin.

Children who have chewed horsetail stalks have presented disorders suggestive of nicotine intoxication. In fact, as a precautionary principle, dried horsetail powder is not recommended for children.

The EMA specifies that the traditional use of horsetail is over a period of 2 to 4 weeks.

According to the EMA, the use of horsetail is not recommended for pregnant or breastfeeding women.
Side effects :
Very high doses of horsetail can cause symptoms of a nicotine overdose.

Horsetail contains potassium in significant amounts. However, in theory, prolonged use of the plant could lead to a loss of potassium due to its diuretic activity. Monitoring of the ionogram with dosage of serum potassium may be required in this case.

Horsetail contains very low amounts of thiaminase, which could degrade thiamine (vitamin B1) at very high doses.
Precautions for use:
Medical supervision is advised in case of joint use with synthetic diuretic drugs.

When an increase in the amount of urine is sought, adequate fluid intake is necessary during treatment.

When using the herb for self-medication, if symptoms worsen while using the herb, a physician or qualified healthcare professional should be consulted. Similarly, the occurrence of fever, dysuria, spasms or blood in the urine requires medical consultation.
Drugs interactions :
Horsetail could interact with antiretroviral drugs. In fact, their association is not recommended.
How to take Horsetail and in what dosage?
Dry form:
Liquid form:
Medical bibliographic sources and clinical trials
 :
Clementine. M.
Writer of scientific articles
Naturopath – Aromatherapist / Herbalist – Phytotherapist
Consultant in clinical phyto-aromatherapy and Ethnomedecine