How to choose the right mosquito net?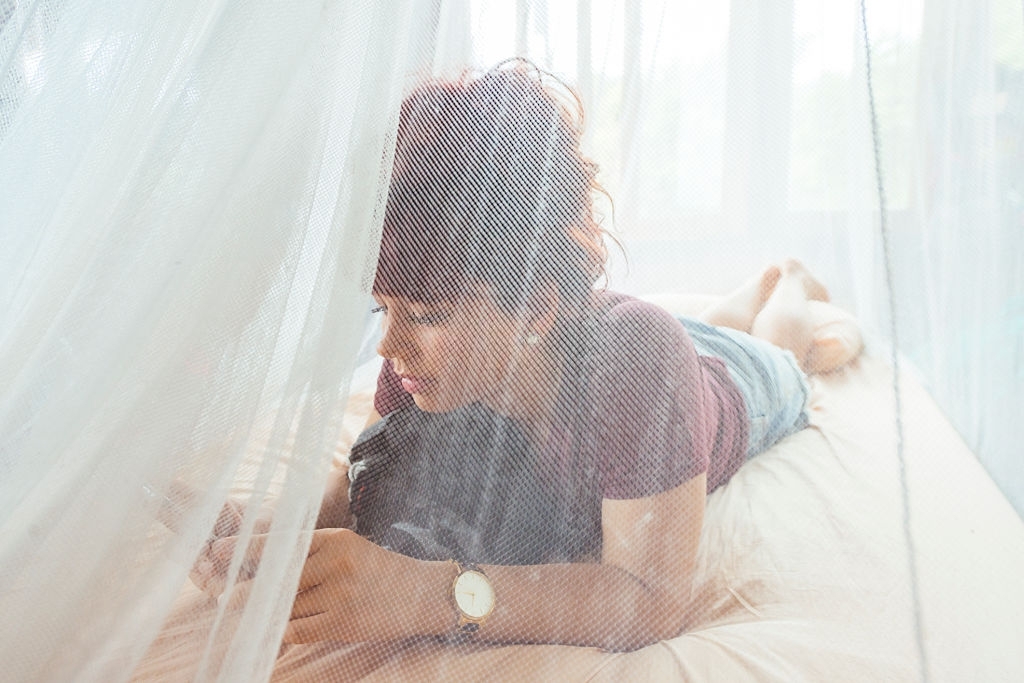 Let's set the scene: you have just spent the day frolicking in the beautiful summer sun. In your haven of peace, no clouds are on the horizon. Just that little breeze that caresses your face. Tonight, the heat invites you to open the windows and discover a blue sky adorned with gold. This scenario, you have dreamed of it more than once. And there you are. Finally ! When … slyly, a little creature whispers in your ear. No, more of a teasing and extremely annoying buzz. Damn, insects have invaded your space and have suddenly brought you out of your dreams. However, it does not help if you go after these little poopers. Unless you want to get upset and, by the way, unexpectedly give yourself a few little slaps.
So how are you going to survive this night and all the nights after? Breathe and peacefully extend your beautiful evening because you already have the solution: the mosquito net.
Mosquitoes and summer insects
Unfortunately, sunny days also bring with them their share of small inconveniences. Wasps, flies, mosquitoes, hornets … all kinds of insects are added to our holiday list, invade our terraces, inflict unpleasant hives on us, and in some cases infect us with serious diseases. However, we must know that in summer, nature being at its peak, it is normal for us to meet such encounters. Despite their seemingly disturbing invasions, be aware that no insects deliberately attack us. The best is to keep them at a distance and continue our journey. The most effective and least harmful solution is to use a mosquito net.
The mosquito net, a multifunction device
Did you know that mosquito nets are also used as bacteria barriers, anti-pollens and sun protection? Indeed, although they are called mosquito nets, the function of these screens is not limited to keeping mosquitoes and other flying insects away. Therefore, suspended, placed or cut, you can adapt your mosquito net according to your own needs and your style. The most effective mosquito nets are impregnated with a long-lasting insecticide like that offered by the brand of Insect Ecran.
Impregnated or non-impregnated mosquito net. Which one to choose ?
This question that many are asking is quite legitimate, especially if you have adopted a bio-engaged approach. Indeed, the impregnated mosquito net contains an insecticide, generally permethrin. So why choose it over another, unimpregnated and therefore considered healthier? In reality, it depends on the geographical area where you are.
Thus, the impregnated mosquito net is de rigueur in regions where mosquitoes are transmitters of serious diseases. This is particularly the case in tropical environments, where malaria, dengue fever and chikungunya are rife … Under these conditions, the impregnated protection does not only repel mosquitoes, but it also kills them, to prevent possible bites. through the mosquito net. In addition, the impregnated mosquito net is also effective against most biting insects such as chiggers, bedbugs, ticks, fleas, lice,etc.
In this category, we can cite the long-lasting impregnated mosquito net for a double bed and the one for the baby bed of the Insect Ecran brand, available in your online pharmacy.
The non-impregnated mosquito net is more suitable for temperate zones, where mosquitoes are more of a nuisance than anything else. It is simply a matter of keeping the occupants of the bed out of the reach of the Diptera.
Maintain your impregnated mosquito net
You should know that all mosquito nets are washable, whether they are impregnated or not, cotton or polyester. However, it is to be expected that the effectiveness of the impregnation will decrease wash after wash. A re-impregnation should then be carried out after 3 washes or every 6 months (except for long-lasting treated mosquito nets).
In "long-term" people, the insecticide can withstand up to 15 to 20 washes at 30 ° C. Their action generally lasts for 3 years.