How to take care of my hair after summer?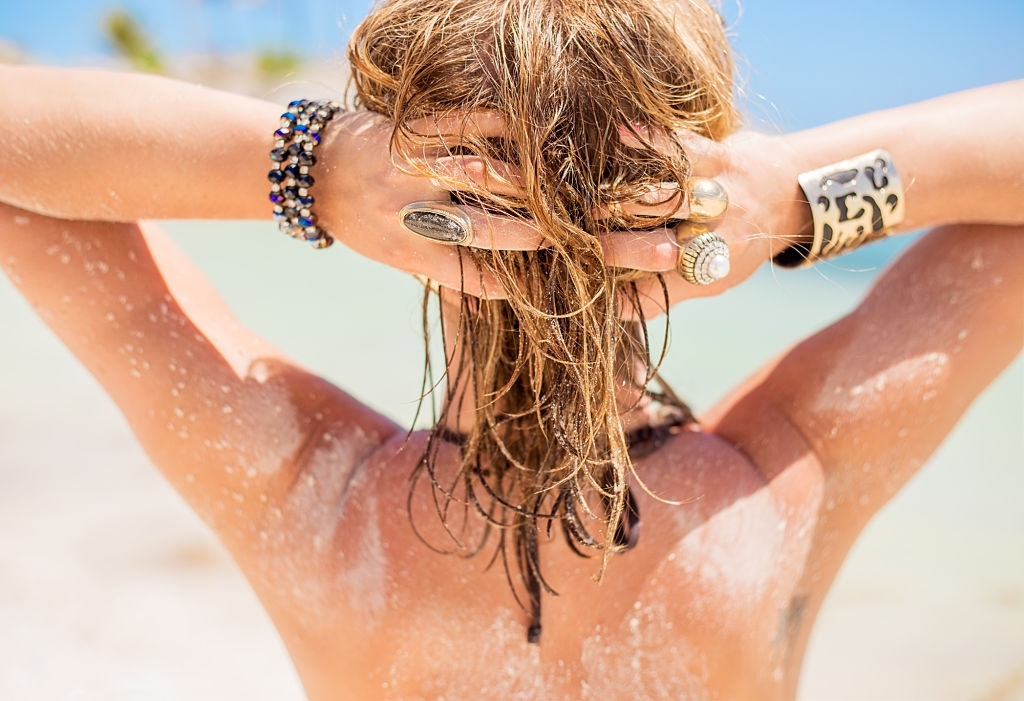 Sun, sea, swimming pool … In summer, hair is subjected to multiple attacks which weaken and damage it.
The sun dulls colorings : associated with seawater, colored hair can lighten up or last much less time (for example blond hair that turns greenish with the chlorine in the swimming pool). However, the sun dries out the hair . Exposing your hair to the gentle caress of the sun also means exposing yourself to the harmful effects of salt, chlorine and the wind which discolor, dehydrate and weaken it. Your vacation is over, you come home with tanned skin, but your hair dry, brittle, dull, damaged and rough.
Take care of your hair with anti-UV protective treatments
Under the sun, we don't think of having the reflex to protect the hair. However, it seems that a UV filter is as essential for our hair as it is for our skin. The sun tends to make the hair fiber porous and dry. Therefore, to avoid this formidable straw effect of the end of summer, we apply before exposure a special anti UV hair oil which will strengthen the hair fiber to protect it from bad sun rays, and provide shine and vitality to the hair. your mane . Reapply every two hours and after each swim.
René Furterer anti UV hair oil resources the hair, repairs the hair fiber and protects the hair from UV rays, salt and chlorine. Waterproof.
Colored hair is not particularly spared either. Under UV rays, they are even more sensitive than natural ones. This is why they require specific protection to prevent the color from fading or fading. For this type of hair, use hair mists in spray special for colored hair during exposure to the sun to spray every two or three baths, from roots to ends. This will protect the pigments from UV rays.
Protect your dry or frizzy hair with nourishing hair care
It is important to protect from the sun , the colorful, curly or frizzy, since they are naturally dried. For this, it is advisable to change your usual shampoo for a more nourishing shampoo , which brings nutrition and repair to the hair and compensates for the drying effects of UV rays, salt or chlorine.
Shea oil is a very rich vegetable oil suitable for the care of dry and frizzy hair. It regenerates them and protects those dried out and devitalized. It can be used daily, by heating one to two drops in the palm of your hand before distributing it over the lengths.
Hair care before and after swimming
Before swimming or sun exposure , protect your hair with specific sun protection or a vegetable oil that naturally contains sun filters.
Wheat germ

 : This oil has a protection factor of 20

Avocado

 : This oil has a protection factor of 15

Coconut oil

 has a protection factor of 8
We can use these oils alone or make a mixture of protective hair oil :
Learn about the many benefits of vegetable oils and simply carry out a tailor-made treatment, adapted to the nature and needs of your hair.
After swimming , the salt, sand or chlorine residues are removed by using a mild shampoo, conditioner and mask afterwards. This combination helps nourish, repair and maintain the shine of your hair. The repairing mask, ultra rich propolia , will close the scales well and cover the fiber to provide the hair with the care and protection necessary to face future attacks.
And after the beach?
Once back from swimming, it is best to clean your hair with a mild shampoo and apply appropriate hair care.
After-sun shampoos

 are formulated to be able to remove salt, sand and traces of products from the hair.

Conditioner and mask, essential

 : A good moisturizer will hardly make the difference between vacation and everyday life.
The Weleda Oat Shampoo Conditioner smoothes , moisturizes and nourishes weakened hair, which then regains its natural softness.
Long hair in particular will need attention. The natural trick to taking care of it in the summer is to make homemade nourishing and moisturizing masks . To achieve a nourishing and hydrating mask, use vegetable oils to nourish deeply associated with honey or natural yogurt to hydrate your hair. Leave on overnight if possible. If they are rough and brittle, this treatment will be done once a week.
Arnaud. C. (Doctor of Pharmacy)