Ginseng, the sovereign essence sent by the gods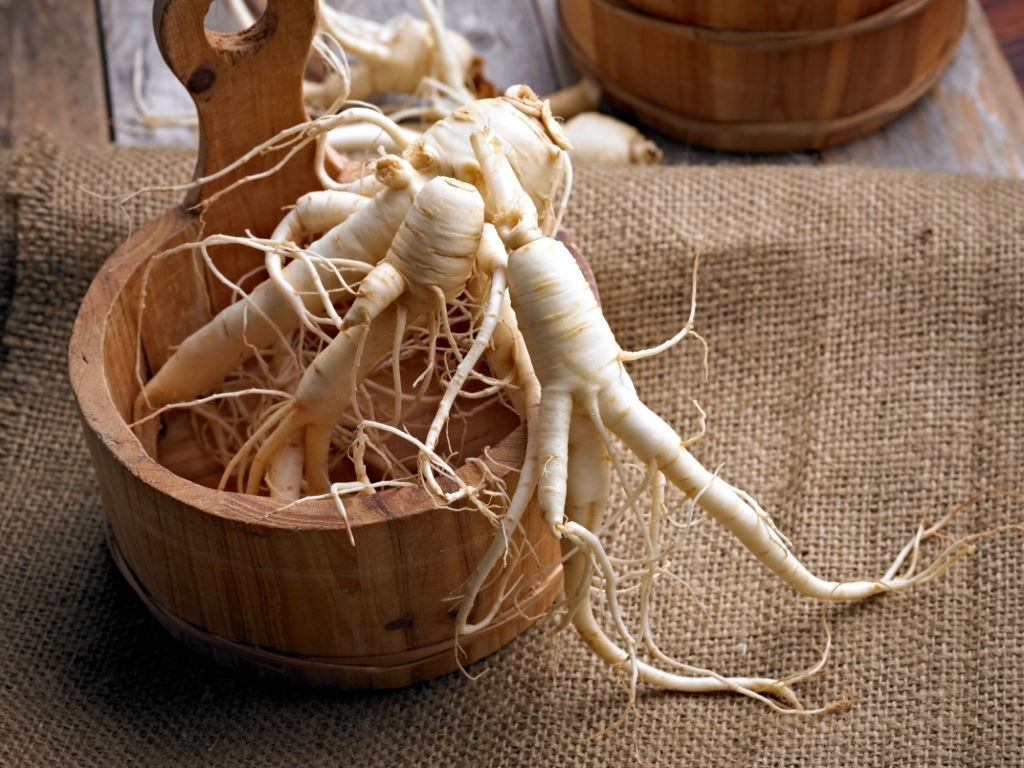 Benefit of the earth nicknamed "sovereign essence", ginseng has been considered for millennia throughout the Far East as THE plant sent by the gods to help men since their creation. This vegetable gnome, this homunculus having captured telluric energies is, whatever the date of its first use, considered as a panacea (of the goddess Panakeia , daughter of Asclepius god of medicine, who will later give the name ginseng scientist, Panax ), the most prestigious plant species in the Chinese pharmacopoeia .
A little history
Used for at least 4000 years, it has been part of the pharmacopoeia of Chinese medicine for more than 2000 years as a fortifier , "vital energy tonic" (Qi), and heart stimulant . The first European introduction of ginseng comes from the navigator of Moorish origin Ibn Cordoba , who brought it back to Spain in the 9th century, but this was hardly followed up, since it was not until the 13th century that we spoke again. from him; at least that's what Marco Polo will do in his Book of Wonders(1298), without bringing anything back to Europe. We will therefore have to wait until the beginning of the 17th century for Europe to finally deign to pay a little attention to this root, which we see being imported more and more.
The American ginseng , meanwhile, was also discovered in the early seventeenth century, when the Asian ginseng appeared in the West. The similar properties of his American alter ego were brought to light in New France among the Iroquois by a Jesuit missionary with the predestined name, Father Joseph François Lafitau . This American cousin was the origin of a real vegetable gold rush, to the point that its dried roots were quickly exported to China, in a trade which for a time became the second in importance after the fur trade.
Ginseng therefore originates from two territories thousands of kilometers apart from each other, as if a primordial seed had given birth to two embryos, each giving birth to a separate plant, which, in fact, ginseng is quite capable, achieving there a feat very rare in the plant world.
What are the main pharmacological properties of Ginseng root?
Improvement of physical capacities:
Traditionally used in functional asthenias , ginseng is particularly considered as an adaptogenic plant . It stimulates the body's resistance in a non-specific way. It improves physical performance and in fact helps convalescents to regain strength. In a review of already old studies on physical performance , it was reported that ginseng significantly increases oxygenation and improves heart rate after 1 to 9 weeks of treatment.
Several studies show the interest of ginseng as an adjuvant treatment for cancer , in particular to fight against the extreme fatigue felt by patients, to restore their physical strength, and to improve their quality of life.
Improvement of intellectual capacities and neuropsychic activity:
It stimulates cognitive performance (concentration, attention, memory capacity). Neuroprotective, it reduces intellectual fatigue . In vivo , ginsenoside R reduces memory disorders associated with cerebral ischemia by epigenetic modulation of BDNF.
Clinical and in vivo trials show that taking ginseng improves stress adaptation and mood. These effects are probably due to regulation of brain neurotransmitters. This is because ginseng stimulates GABA .
Ginseng has a dopaminergic effect , in particular by modulating the gene expression of tyrosine hydroxylase. It modulates the activity of the dopaminergic nervous system and changes in spontaneous motor activity during the night in the elderly.
In addition, ginseng exerts a neuroprotective effect on dopaminergic neurons in Parkinson's disease . This antiparkinsonian activity is linked to the ginsenosides Rd and Re, and involves a reduction in oxidative stress and inflammation, as well as an anti-apoptotic action and preservation of the integrity of the cerebral vascular barrier.
By the same mechanism, ginsenoside Rd attenuates ischemic brain damage after a stroke, and confirms its neuroprotective activity, in particular by inhibiting the activation of microglia and its inflammation. In vitro , it promotes the growth of neurites (axon or dendrite).
Immunostimulating property:
Ginseng root increases the production of T and B lymphocytes and increases phagocytosis. In vivo , it stimulates the activity of NKs. In humans, taking a ginseng extract associated with an influenza vaccine potentiates the vaccination , and better protects against the common cold by a significant increase in the antibody titer and the activity of NK cells.
Hormonal modulator of the pituitary-cortico-adrenal axis:
Ginseng reduces the excessive secretion of cortisol from the plasma following chronic stress. In vivo , it has been demonstrated that ginseng exerts effects comparable to those induced by diazepam (standard anxiolytic). In humans, it regulates stress hormones during menopause and improves the cortisol / DHEA ratio.
Anti-inflammatory property:
In vitro , the saponins of ginseng have an anti-inflammatory effect on macrophages by inhibiting the production of nitrogen monoxide (NO), tumor necrosis factor alpha (TNFα), interleukin-1b (IL-1b), and inhibiting NF-kB. This inflammation-reducing activity has been shown in vitro for ginsenoside Rh3 on keratinocytes exposed to UV. The same is true for the ginsenosides Rg5 and Rk1 at the level of keranocytes and macrophages, suggesting an interest in atopic dermatitis.
At the articular level, ginseng exerts protective effects on the cartilage by slowing down, in a variable manner depending on the method of extraction, the matrix metalloprotease, the main degradation enzyme of the collagen matrix of the articular cartilage.
Antiallergic and antioxidant property:
In vitro , 20-S-Protopanaxatriol inhibits the inflammatory response associated with allergy . Red ginseng extract prevents histamine-dependent pruritus by inhibiting the H1R / TRPV1 pathway in sensory neurons.
Chronic consumption of ginseng alleviates oxidative stress associated with aging . The same is true when the latter is induced by a chemical agent in a line of microglial cells.
Stimulation of NO synthase:
Ginseng stimulates inducible NO synthase and the production of nitric oxide (NO) in the brain, brain, kidneys, pulmonary endothelium and peripheral vessels, heart and the urogenital sphere, especially in the level of the cavernous body. This vasodilating property could justify the aphrodisiac reputation of ginseng and its traditional use (at least 2000 years) to combat impotence. It also explains its cardioprotective effect .
Hepato-protective, metabolic and antidiabetic properties:
At the hepatic level:
Ginseng has a beneficial role in the treatment of various liver diseases such as hepatitis, liver fibrosis, cirrhosis, hepatocellular carcinoma, acute liver failure, and acute or chronic hepatotoxicity.
At the metabolic level:
Ginseng prevents obesity , adiposity and the hypertrophy of adipose tissue by limiting inflammation and angiogenesis.
In type 2 diabetes:
Ginseng lowers cholesterol levels and improves glucose tolerance.
Other properties:
Gastro-protector

Intestinal protector

Vascular protector

Prevention of benign prostatic hyperplasia

Mitigation of the effects of lowering estrogen

Anti-osteoporosis effect

Improvement of dry eye syndrome

Anticancer
Are there any precautions for use with Ginseng?
Precautions for use:
May cause gynecomastia in men.
Contraindications:
Contraindicated in pregnant women,

in vitro

, ginseng is teratogenic.

Due to the lack of toxicological data and insufficient studies, ginseng is not recommended in lactating women as well as in non-pubescent children.

Ginseng is not recommended in cases of severe arterial hypertension and severe psychiatric disorders that are not stabilized.

Contraindicated in patients with hemophilia or preparing for surgery.

Avoid in gynecological cancers.
Drugs interactions :
Drug interactions are possible with anticoagulants (warfarin), monoamine oxidase inhibitors (MAOIs), as well as triptans. Doubts persist about an interaction with digitalis.
How to take Ginseng and in what dosage?
Dry form:
In medicine (in homeopathic dilution) or food supplement, in the form of standardized fresh plant extract, dry extract, powder, in

capsules

or tablets, or in bulk, alone or combined with other plants.
Liquid form:
Whatever the galenic form used, ginseng is used in the morning and / or at noon but not in the evening.
For improving cognitive performance, in particular in preparation for exams or competitions (action demonstrated in a driving simulation test during a double-blind study against placebo, after a single oral intake ).
In the event of physical and mental overwork; chronic fatigue syndrome; treatment of exhaustion syndrome and prevention of its recurrence.
In improving vigilance (driving a car, machines, machinery), short-term preparation for physical and sporting or intellectual tests (exams).
Against dopaminergic type depression; parkinson's disease in addition to conventional treatment.
To fight against depression linked to chronic stress or in a context of overwork or exhaustion.
In physical activities (preparation and recovery) in athletes and people over 50 years old.
In prevention of aging, immunosénescence, strengthening of the immune and general defenses, helps vitality.
In the treatment of metabolic disorders, obesity, diabetes, with hepatic disorders and increased vascular risk.
To treat metabolic syndrome, type 2 diabetes, especially with high blood pressure and dyslipidemia.
Medical bibliographic sources and clinical trials
:
Friedl R. et al., Stimulation of nitric oxide synthesis by the aqueous extract of Panax ginseng root in RAW 264.7 cells; Br J Pharmacol., 2001

Kennedy DO et al; Dose dependent changes in cognitive performance and mood following acute administration of Ginseng to healthy young volunteers; Nutr Neurosci., 2001

Petkov VD et al., Effects of standardized ginseng extract on learning, memory and physical capabilities, Am J Chin Med., 1987

Rai D. et al., Anti-stress effects of Ginkgo biloba and Panax ginseng: a comparative study, J Pharmacol Sci., 2003

Reay JL et al; Single doses of Panax ginseng (G115) reduce blood glucose levels and improve cognitive performance during sustained mental activity; J Psychopharmacol., 2005

Scaglione F. et al., Efficacy and safety of the standardized Ginseng extract G115 for potentiating vaccination against the influenza syndrome and protection against the common cold, Drugs Exp Clin Res., 1996

Yang G. et al., Immunopotentiating effect of traditional Chinese drugs-ginsenoside and glycyrrhiza polysaccharide, Proc Chin Acad Med Sci Peking Union Med Coll., 1990

Tode T. et al., Effect of Korean red ginseng on psychological functions in patients with severe climateric syndromes, Int J Gynaecol Obstet., 1999

Kim JH et al., Effects of sun ginseng on subjective quality of life in cancer patients; a double-blind, placebo-counterolled pilot trial, J Clin Pharm Ther., 2006

Bardon DL et al., Pilot study of Panax quinquefolius (American ginseng) to improve cancer-related fatigue: a randomized, double-blind, dose-finding evaluation; NCCTG trial N03CA, Support Care Cancer, 2010

Wei-Yi O. et al., Protective effects of ginseng on neurological disorders, Front Aging Neurosci., 2015

Choi SE et al., Effects of ginsenosides on GABA (A) receptor channels expressed in Xenopus oocytes, Arch Pharm Res., 2003

Chen LW et al., Chinese herbs and herbal extracts for neuroprotection of dopaminergic neurons and potential therapeutic treatment of Parkinson's disease, CNS Neurol Disord Drug Targets, 2007

Wan Q. et al; Ginsenoside Reduces Cognitive Impairment During Chronic Cerebral Hypoperfusion Through Brain-Derived Neurotrophic Factor Regulated by Epigenetic Modulation; Mol Neurobiol., 2016

Kim DY et al., 20 (S) -Protopanaxatriol inhibits release of inflammatory mediators in immunoglobulin E-mediated mast cell activation, J Ginseng Res., 2015
Clementine. M.
Naturopath – Aromatherapist / Herbalist – Phytotherapist
Consultant in Clinical Phyto-aromatherapy and Ethnomedicine