Why treat a lump with arnica montana?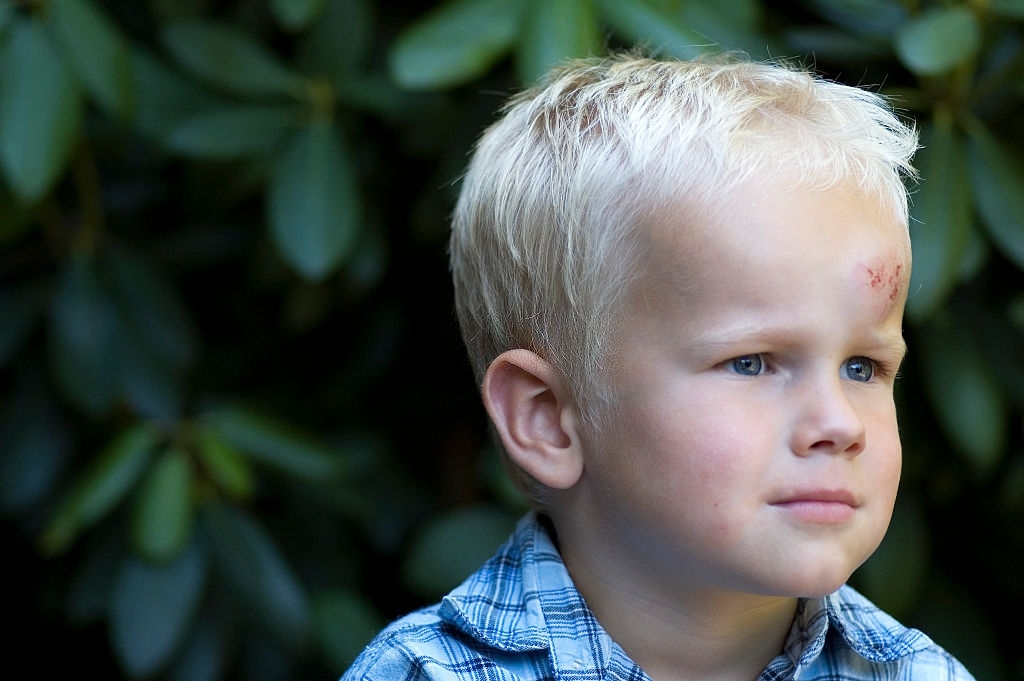 Homeopathic enthusiast or not, arnica montana is one of the essentials in our daily first aid kit. From the baby's first steps, to learning to ride a bike, through the heckles between friends, … Arnica has always been there to accompany our dear little darlings in the discovery of life.
There is no shortage of opportunities to fall and bump into a child's life. A fall or a slight shock on the scalp or forehead can cause a skin hematoma, a beautiful bump also called "pigeon egg".
How exactly does a bump form ?
The bump is neither more nor less than a simple hematoma, that is to say a collection of blood under the skin. It only occurs after a shock, most often violent. Spontaneous hematomas usually do not cause a lump, but rather diffuse and almost flat blood effusions or bruises under the skin.
However, a fall in a child can be serious and requires the utmost vigilance.
While half of all accidents result in benign lesions (contusions, superficial wounds), many of them are associated with serious physical or psychological consequences.
What is Arnica Montana for ?
Its main indication is physical or psychological trauma. Not just the bumps and bumps of our dear little darlings. Arnica montana promotes wound healing. In addition to soothing pain, it limits bruising.
How much arnica montana to use?
The more local, the smaller the dilution should be:
Blue, blow, bump: arnica 5 CH
General shock (operation, flu, etc …): arnica 9 CH
Recent bereavement or other emotional shock: arnica 15 CH
Former trauma (physical or emotional): arnica 30 CH
How to reduce symptoms and facilitate healing of a lump by having the right reflexes ?
Apply an ice pack to the bump :
If you don't have an ice pack, apply cold compresses or a washcloth topped with ice cubes. The cold helps to fight against the pain and limits the extension of the lump. Do not place the ice directly on the skin, it may cause frostbite, always wrap it in a cloth.
Make a compression bandage :
Using a band or a compress, make a compression bandage on the lump in order to limit its size. However, do not leave it in place for more than 10 minutes.
Bring arnica into play !

As soon as possible, apply a thin layer of Arnigel to the painful area with a light massage until complete penetration. Reapply once or twice a day. Arnigel® is a homeopathic medicine traditionally used as a topical treatment to relieve bumps. Do not use it in a child under 1 year old and in the presence of a wound.
You can also use products like Arnican, Arnical Tincture, Crunchy Arnican Freeze which combines the effects of cold and Arnica.
It is the turn of the Arnica in 9CH granule tube to come into action! (5 granules 3 to 4 times a day).
Even impressive a "pigeon egg" is usually benign and goes away within a few weeks. However, the child should be supervised for 72 hours after the shock or fall, including at night. Loss of consciousness, behavioral disorders (excitement, drowsiness, lack of tone), loss of appetite, language difficulties should alert and be the subject of a visit to a doctor or to a healthcare service. 'emergency.
In short … arnica is to homeopathy what doliprane is to chemistry, minus the side effect!
Clémentine. M.
Naturopath – Aromatherapist / Herbalist – Phytotherapist
Consultant in clinical phyto-aromatherapy and ethnomedicine