Chamomile essential oil, from the divine coronation to the Druidic nobility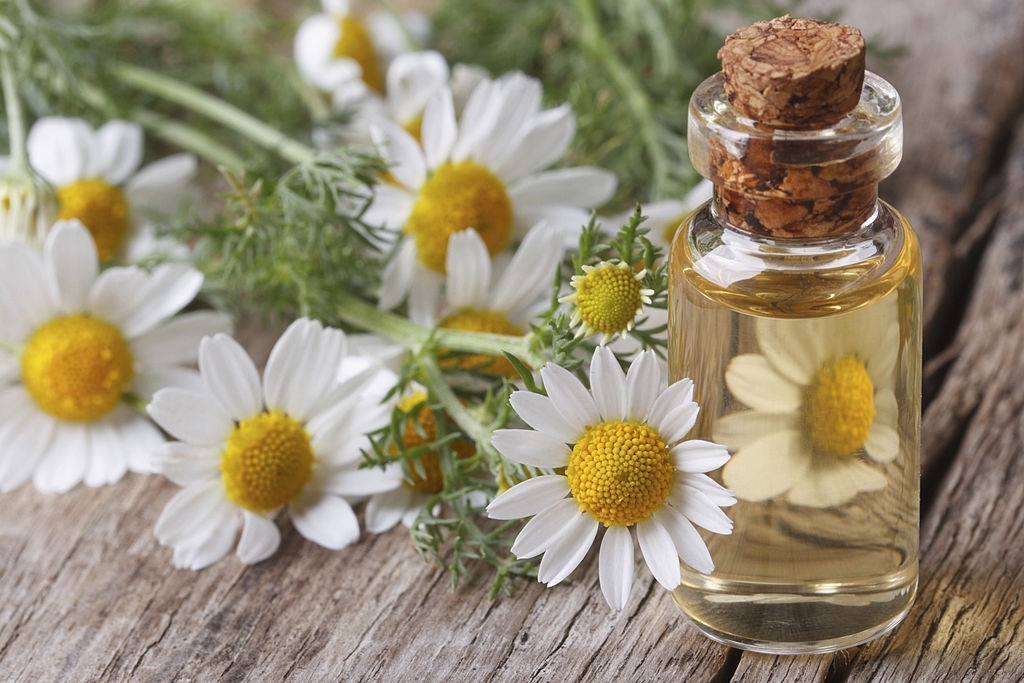 The virtues of chamomile flowers have been known since the dawn of time. Although not of Roman origin, tradition has it that it was named so because a German botanist and physician Camerarius rediscovered it in the 16th century in Rome. The flower head is used in herbalism, traditionally to facilitate digestion . In liquorice, it gives a bitter flavor to aperitifs. The flowered top, for its part, is used for the production of essential oil used in particular in perfumery .
A little history
From the first century of our era, the encyclopedist Pliny thus described the three species of chamomile: Matricaria recutita (annual German chamomile), Chamaemelum nobile (perennial Roman chamomile) and Tanacetum parthenium (Feverfew). Legend has it that chamomile grows on uncultivated soil.
The establishment of Roman chamomile on the Atlantic coast explains why it was a plant favored by the Celts , although the Celtic world is not reduced to its oceanic ends, since, at the height of its expansion (in the 2nd century BC), it stretched from the West (Portugal, Ireland) to the East, bordering the Black Sea. It was therefore a Druidic remedy whose memory has been perpetuated since it is one of the sacred plants of the summer solstice , very used by the Anglo-Saxons during the Midsummer Day, while elsewhere, where this plant is unknown, we give all its interest to some of its cousins ​​such as daisy or large daisy.
Galen also relates how the sages of Pharaonic Egypt dedicate this flower to Ra , Sun God, challenged by its effectiveness against fevers. It would also have been used for the embalming of Ramses II .
Cazin (19th century) recommends it against fevers and successfully treated intermittent fevers of swamps when cinchona was lacking. Used externally, chamomile infusion was known for its lightening power on blond hair and for treating eyelid inflammation or conjunctivitis .
Valnet (20th century) considers essential oil as an antispasmodic, analgesic, calming and recommends it in neuralgia, nervous breakdowns, insomnia , digestive disorders and dysmenorrhea of ​​nervous origin.
Antispasmodic property:
Recognized as an antispasmodic , isobutyl angelate notably exerts a powerful action against spasms. The essential oil of chamomile is in fact calming the central nervous system in massage.
Sedative and anxiolytic properties:
The angelate of isobytile also shows an action calming and de-stressing . This essential oil is indeed sedative and anxiolytic . It is the richest essential oil in esters, which also gives it relaxing and anti-depressant properties .
Anti-inflammatory and analgesic property:
The essential oil opposes inflammation and thus exerts a local analgesic action . It is therefore interesting for neuro-arthritics. Analgesic (one of the most analgesic in dentistry, action undoubtedly reinforced by the traces of acids it contains), it is as a bonus pre-anesthetic . It is generally readily associated with Hypericum perforatum for a more effective synergy.
Pest control property:
The essential oil of noble chamomile is also antiparasitic against intestinal parasitoses such as hookworms (roundworms) as well as lambiases (protozoa of the giardia genus).
Healing properties:
This oil stimulates fibroblasts and the formation of collagen, it is therefore healing .
Other properties:
Inhibits the adrenal gland

Calms the emotional thyroid

Stimulates the epiphysis

Antipruritic and antiallergic

Digestive tonic: carminative and cholagogue

Hypotensive, calming, neurotonic as well as nervous rebalancing
Does the essential oil of noble Chamomile require precautions for use?
Contraindicated in pregnant or breastfeeding women as well as in children under 8 years old

Risk of common allergy with other 

Asteraceae

 (yarrow, matricaria, arnica, etc.)

Possible drug interactions, inhibition of CYP3A5 

in vitro

 , and CYP 3A4, CYP2D9, CYP 2C9, 

in vitro

 (ask your pharmacist for advice)
Medical bibliographic sources and clinical trials
 :
Umezu, Toyoshi & Sano, Tomoharu & Hayashi, Junko & Yoshikawa, Yasuko & Shibata, Yasuyuki. (2017). Identification of isobutyl angelate, isoamyl angelate and 2-methylbutyl isobutyrate as active constituents in Roman chamomile essential oil that promotes mouse ambulation. Flavor and Fragrance Journal

Aremu, Olukayode & Tata, Charlotte & Sewani-Rusike, Constance & Oyedeji, Adebola & Oyedeji, Opeoluwa & Nkeh-Chungag, Benedicta. (2018). Phytochemical composition, and analgesic and anti-inflammatory properties of essential oil of Chamaemelum nobile (Asteraceae L All) in rodents. Tropical Journal of Pharmaceutical Research

Williamson EM. Interactions between herbal and conventional medicines. Opin Drug Saf Expert. 2005

Budzinski JW, Foster BC, Vandenhoek S, Arnason JT. An in vitro evaluation of human cytochrome P450 3A4 inhibition by selected commercial herbal extracts and tinctures. Phytomed. 2000

Butterweck V, Darenforf H, Gaus W, Narstedt A, Schulz V, Unger M. Pharmacokinetic herb – drug interactions: are preventative screenings necessary and appropriate? Planta Med. 2004
Clementine. M.
Naturopath – Aromatherapist / Herbalist – Phytotherapist
Consultant in Clinical Phyto-aromatherapy and Ethnomedicine