What are the different natural remedies to treat angina?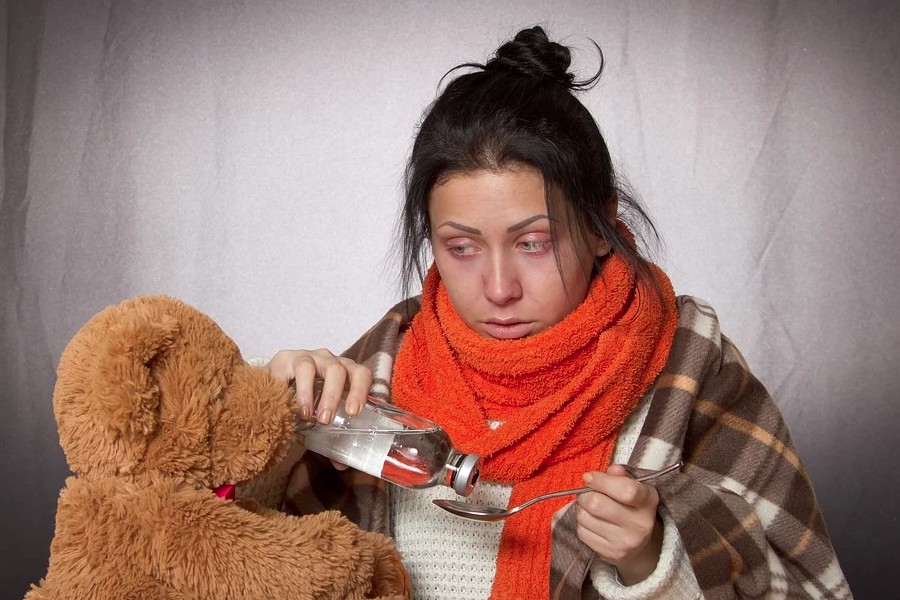 The sore throat manifests itself in a sore throat to swallow, burning or tingling sensation. Infectious origin (angina, rhino-pharyngitis) is frequently observed, but throat irritation may also be due to too dry air, inhalation of tobacco smoke dust, misuse of the voice, or the passage of an unusual object (e.g. fishbone).Angina first is a microbial infection of the tonsils and/or oropharynx caused mainly by a microorganism (virus or bacteria).The majority of angina is usually caused by a virus.In about 25% of cases, angina is bacterial (group A hemolytic beta streptococcus), justifying the prescribing of antibiotics.
What are the symptoms of angina? What is the difference between viral angina and bacterial angina?
Angins in Streptococcus

Viral angins 50-90% of cases

Epidemiology

Winter, spring. Peak incidence between 5 and 15 years. Never after 25 years, almost never before 3 years

All year round

Angine test – rapid diagnostic test

The angina test determines the bacterial origin of your sore throat by swaddling your tonsils. It shows the presence of beta-hemolytic streptococcus. If the origin is bacterial, then antibiotic therapy is essential.

Since 1999, experts have decided at an official conference (a consensus conference) that only potentially dangerous angina, i.e. those due to streptococcus A beta-hemolytics, should be treated with an antibiotic and only if the person with the disease is under 25 years of age.

Exacto® Streptatest…

General signs

Brutal start

Intense dysphagia
No coughing
high fever > 38oC

Gradual start

Moderate dysphagia
Coughing, hoarseness
Diarrhea, arthralgia, myalgia

Locoregional signs

Intense Pharynge erythema – exudates

Sensitive satellite adenopathies (neck-level ganglions)
Scarlatiniform eruption

Vesicles

Complications of poorly treated angina

Scarlet fever

Rheumatoid arthritis
Kidney complications: glomerutonephrites

No complications, spontaneous healing in 3 to 4 days

Treatment of angina

Antibiotic

Painkillers
The score of mac Isaac
This score in 4 items (fever >38oC, Presence of exudates, cervical adenopathies, absence of cough, age) allows to assess the risk of streptococcus A angina.
To do the test, click on this link
Other angina
Apart from red (erythematous) and white (erythtopultaceae) angina, there are other rarer forms of angina: vesicular (with ulceration), pseudo-membranes or false membranes, ulcerative and ulcerative necrotic. However, their diagnosis requires additional laboratory examinations depending on the suspected case.
Some are bacterial: Vincent angina (ulcerative), syphilitic angina (undurance ulceration), gonococcal angina (red with more or less exudate), diphtheria angina (with false membranes). These anginas also require targeted antibiotic treatment depending on the diagnosis.
Others are viral: infectious mononucleosis (false non-stick membranes), herpangine (vesicular)…
What is hoarseness?
A hoarseness is in fact an alteration of the timbre of the voice. It is actually a disorder of the vocal cords, which no longer vibrate normally. The voice becomes lower, hoarse, and sometimes almost inaudible, what is also called "voice extinction". Hoarseness can also be accompanied by coughing or sore throat.
Causes of hoarseness
The origins are therefore diverse: laryngitis, atmosphere too dry or smoky, benign nodos on the vocal cords due to too strong a strain.
What is pharyngitis
Pharyngitis is therefore an inflammation of the pharynx. In children, rhino-pharyngitis, i.e. inflammation of the rhino-pharynx, is more common. The latter is of viral origin, caused by rhinoviruses.
Prevention of angina. How to avoid angina?
Angina is transmitted mainly through oral contact, saliva projections. So to avoid the transmission of angina:
Use paper handkerchiefs

put your hand in front of your mouth in case of a cough

Wash your hands frequently.

The sick person is no longer contagious 24 to 48 hours after starting treatment.
Tips on sore throats
Moisturize
Use an air humidifier (Flavour Fountain) or water containers otherwise placed against the radiators, calms the irritations of the throat and thus moderates the cough.
The drying of the pharyngeal mucosa however increasing the burning sensation, it is advisable to drink plenty of water. Choose hot drinks with honey (lemon honey for example). Drinking helps to dilute viruses and thus limit the risk of having a cough.
Eat essentially liquid foods to reduce pain when swallowing.
Sucking lozenges for sore throats. hyper salivation caused by suction contributes to healing (Activox, Drill, Lysopaine, Oropolis, Strepsils, Valda…)
Clean the nose with physiological serum (Cooper nasal spray®)
Protect
Avoid eating foods that are too acidic (lemon juice, vinegar) or too salty (chips, salted biscuits for aperitif) so as not to irritate the lining of the throat.
Protect the neck and throat from the cold with a scarf or scarf, especially in winter.
Avoiding drafts
Don't force his voice. Vocal rest should be observed for 2 to 3 days.
Environment: In winter, keep a temperature of the house between 18 and 20 degrees Celsius, moisten the atmosphere . Well ventilate the rooms of the house and especially the room. Use a diffuser of essential oils (Fontaine d'arômes) with a blend of purifying essential oils (PRANAROM Aromaforce Spray Purifies Air, Respir®, Respir® Spray Air Pure 50ml Lemon Mint) that will purify the atmosphere and clear the airways. Clean it at least once a week.
Avoid smoking or exposure to second-hand smoke, as tobacco smoke irritates the sinuses and airways: check out our tip sheet: Tobacco. Tobacco promotes coughing, especially the famous smoker's cough (or COPD).
Avoid alcohol and spicy foods as they are irritants. They increase the pain in the throat.
Tips for hoarseness or voice extinction
Avoid talking.
Vocal rest is essential. You can't force your voice or even whisper
The hygienic-dietary rules in case of angina are also valid in case of hoarseness.
Moisturizing the pharyngeal mucosa: The main clinical signs of poor hydration of the mucous membranes of the ENT sphere are vocal fatigue, dysphonia, asthmatic cough, retro sternal burn, hyperkinesia or even laryngeal spasm. The mucus lubricating the vocal duct has an antiseptic, decongestant, anti-edema role and it facilitates drainage of the respiratory tree.
Suck Gelovox lozenges with hyaluronic acid to keep the pharyngeal mucosa moist.
How to treat angina
The treatment of angina is inseparable from hygienic-dietary rules.
Treatment will be different depending on whether it is viral or bacterial angina.
In cases of suspected viral angina, only symptomatic treatment with an antipyretic and analgesic (local and anti-edemaousal treatment) is recommended by the ANSM.
In children between the age of 5 and 15, it is easier to switch to a group A hemolytic streptococcus bacterial angina. (with antibiotic treatment)
BASIC TREATMENT
Local treatment
CollutoireHexaspray®, Collu-hextril®, Drill® Throat Pain Collutoire, Colludol® 1 spray 6/day.
Pastilles to soften and disinfect the throat based on lysosyme, biclotymol, local anesthetic and enxolone: Drill®, Strepsils®, Solutricine®, Hexalysis®, Lysopaine® Sucking Tablets.

(Strefen®) from 12 years of age, against indicated in pregnant women and in cases of deodenal peptic ulcer.

Naturally occurring pastilles: mucilage-based, acting by soothing the lining of the mouth and throat
Gelovox®, Voxlysopain®…
Advice
Avoid the use of a pharynmic bubic anesthetic (lidocaine, teracaine…) just before meals or drinks to avoid false roads.The use of an antiseptic (glutilla or sucking lozenges) should not exceed 5 days (risk of imbalance of the normal microbial flora of the oral cavity.
Prefer sugar-free sweeteners if you are diabetic (Drill® sugar-free, Lysopaine® sucking tablets, Oropolis®, Strepsil® sugar-free…).
Antiseptic
Bismuth salts allow a good disinfection of the ENT sphere (Biquinol Suppositories®, Pholcone® Bismuth).Bismuth salts are selectively removed by the salivary glands through the lymphatic system.Contraindications: Allergy to one of the constituents. Counter indicated before the age of 6 years.
Precautions: do not use bismuth for more than 3 days in a row without medical advice.
Anti-edemaux
Syrup or enzyme-based tablets (alpha-amylase) decreasing edema and inflammation: Megamylase®, Maxilase®
Painkillers and antipyretics
Paracetamol to be preferred (Dolipraneoro®)
Anti-inflammatory: Ibuprofen
Advil®, Advilcaps®, ADVILEFF®, Gelufène® Spedifen® Nurofenflash®, Nurofen®, Nureflex®
Anti-inflammatory drugs are contraxed during pregnancy in the asthmatic subject.
Antibiotic therapy
If streptococcal angina is suspected (from the age of 5 in the presence of severe pain, after the rapid TDR test), it is possible to consider short-term corticosteroid therapy combined with antibiotic therapy.
The antibiotics recommended by the ANSM are first-line: Amoxicillin for 6 days, to be taken during or outside meals. In case of penicillin allergy, 2nd and 3rd generation cephalosporins can be used. In case of allergy to betalactamines, a macrolide or related is indicated. Due to the emergence of macrolides-resistant strains of streptococcus A, a throat sample with cultures and antibiotics is necessary to verify the sensitivity of the streptococcus to the chosen molecule.
If antibiotics are prescribed, combine yeast to prevent diarrhea
To avoid reoffending
Make a vitamin C cure, Activox® Liquid Heart Echinacea sucking lozenges (3/day)
Honey
Use honey to sweeten your coffee, for example. Your pharmacy can provide you with special honeys (thyme honey, rosemary honey…).
Royal jelly
Nutrient revitalizing concentrate, which helps stimulate natural defenses. It also has a high nutritional quality (essential amino acids, trace elements, B vitamins). The Royal Jelly feeds the larvae for the first 3 days of their lives, but also the queen throughout her life. In prevention, a cure of 0.5g/day is recommended for 40 days. It can be taken as a cure at the 1g/day dose to stop an ongoing infection.
3 Royal Jelly Oaks, Arko Royal, Dayang® Royal Jelly, Dayang® Royal Jelly Ginseng, Cooper® Royal Jelly, Inovya® Royal Jelly, Vitaflor Bio Royal Jelly…
Propolis
Propolis® , Oropolis®, Propolis mother dye, propolis spray, propolis syrups…
For more information, see our advice sheet: Propolis
Angina and oligotherapy
Oligosol®Cuivre: 2 blisters/day for 3 days to treat the infectious condition.
Oligosol® Bismuth (anti-infective, anti-inflammatory and natural defence stimulator) for 5 to 10 days. From the age of 6.
To avoid reoffending
Oligosol® Mn-Cu (copper manganese) associated with Oligosol® Cu-Au-Ag (copper, gold, silver).
What vitamins or dietary supplements should be taken in case of angina or sore throat?
Vitamin C
Prefer the natural vitamin C that is acerila
Vitamins C and acerola: 3 oaks Acerola 500, 3 organic oaks Acerola 1000, Acerola 1000 Arkopharma®, Acerola Arkogélules®, Vitascorbol® 500, Vitascorbol® 1g
In any case
Propolis: 1 capsule 3 times a day, until the troubles disappear
Before taking this treatment, check out our tip: Propolis
To avoid reoffending
Make a cure of dietary supplements specially designed to increase natural immune defenses:
Bion® 3, minerals and probiotics that help strengthen the body's natural defenses
Alvityl® combined defenses, vitamin C, propolis and 2 strains of echinaceas (immunostimulating plants)
Immunodefenses Inoya® combines vitamins, minerals, echinaceae and probiotics (saccharomycès cerevisiae) …
Activox® Liquid Heart Echinacea sucking lozenges (3/day)
Grapefruit seed extract, nicknamed a natural antibiotic, has stimulating and protective properties of the body that are believed to be due to its richness in bioflavonoids and vitamin C with anti-oxidant properties.
Grapefruit seed extract has antibacterial, anti-virucid, antiparasigic, antifungal properties. It would act against 800 strains of bacteria and viruses, 100 strains of fungi (moulds), while preserving the intestinal flora. Grapefruit seed extract can therefore be described as a "broad-spectrum natural antibiotic."
Grapefruit seed extract is traditionally used for gastrointestinal dysfunctions and enthrottle-related problems.
ARKOFLUIDES® Grapefruit seeds, Nutrisanté® Grapefruit Seed Extract...
Relieving angina through homeopathy
Local treatment
Gargarisms
Make 3/day gargles with the following mixture: Calendula TM – PhytolcaccaTM in equal parts. 1/2 teaspoon per glass of hot water.
The mother dye of calendula has soothing, antiseptic and anti-inflammatory properties (by saponosides, the carotenoids contained in the Calendula flower). It can be used to relieve irritation and itching. Mucilaginous substances (pectin and rubber) have moisturizing and softening properties
For more information, check out our Souci, calendula advice sheet
Be careful, due to the presence of alcohol in the mother dyes, not recommended in children and pregnant women.
In all cases:
Homegen 9 or Angipax®: Suck 1 to 2 tablets every hour (from 6 years old)
Precaution with all these drugs: Given the presence of the PULSATILLA strain in the formula, this medication should not be used in cases of otitis or sinusitis without medical advice
To avoid recurrence (biotherapeutic drainage) if repeated angina:
Take a sublingual bulb of Amygdale D8 every other day to drain the ground
50 drops in the morning in a glass of water from Echinacea TM. In children aged 4 to 6, prefer Echinacea 3D 15 drops per day and in children 6 to 15 years old Echinacea 2D 30 drops per day
Depending on the symptoms:
Suck 3 granules 3 times a day from one or more subsequent strains, until symptoms improve
Angine on the right
Mercurius proto iodatus
Lycopodium (improvement by drinking hot)
Phytolacca (improvement by drinking cold)
Angine on the left
Mercurius bi iodatus
Lachesis (improvement by cold drinks and the arrival of rules)
Caninumsi lake pain changes sides
Constitutional treatment
Recurrent angina, alternating with repeated aphtoses or gingivitis, are characteristic signs of lèse.
This diathesis should therefore be treated to avoid recurrence
Also look for the specific signs of luèse drugs: Luesinum, all mercurius, all kali, heavy metals like Argentum nitricum, Aurum metallicum, Baryta carbonica, Platina, Calcarea fluorica, Fluoricum acidum, Iodum, Lachesis, Plumbum, Borax...
1dose of each strain that will be selected weekly alternately. The dosage ranges from 9 to 15 CH if there are many similarities.
Treatment of hoarseness with homeopathy
Local treatment
Make 3/day gargles with the following mixture: Calendula TM – PhytolcaccaTM in equal parts. Be careful, due to the presence of alcohol in the mother dyes, not recommended in children and pregnant women.
General medicines
Arum triphyllum composed 3 granules 3/day; Homéovox® or Voxpax®: 1cp to suck every hour
Sambuscus 5 to 10 lozenges a day to suck.
The specifics
Related to cold or abuse of the vocal cords, changing tone (bitonal voice), dry cough -> Arum tripholiens
After an effort of the vocal cords, feeling of having throat skinned > Arnica montana
Cold-bound with a hoarse cough > Aconit
Calmed by a sip of cold water: Cuprum metallicum
In case of a tendency to chronicity
Phosphorus in case of burning pain in a tuberculin subject. Tracheobronchite not preceded by a cold or rhinopharyngitis. Aggravation at dusk. Need to drink large amounts of cold water.
Hepar sulfuris calcareum: in a psoric individual. Strong tracheal pain feeling of wound, splpled, burning with greenish sputum. Irritable, angry and chilly individual. Pale tint, possibly light swelling of the upper lip making the "tapir snout". Coughing is also painful. Intolerant at the slightest cold, at the slightest draft. Protects your mouth with a scarf
Causticum in case of hoarse voice. Hoarseness and coughing in the morning. Broken voice. Sometimes urinary incontinence with cough.
Treatment of sore throats with herbal medicine
Local treatment with softening, anti-inflammatory, antiseptic and mucous protective treatment, in the form of sucking lozenges, brushing, gargles.
Emollient and softening plants:
Mucilage plants are emollient and softening. They must be taken in liquid form to benefit from their softening action:
Marshmallow (Althaea officinalis: roots, flowers and leaves in decoction),
Mauve (flowers and leaves in infusion),
White broth (flowers cut into decoction),
Plantain (Plantago minor) plantain leaves are astringent thanks to their tannin. At the same time, its mucilage gives it a softening action. It is interesting in cases of diarrhea, to treat angina, in case of inflammation of the oral mucosa and respiratory ailments such as chronic bronchitis. Plantain is used as an extended infusion (20minutes at least) of 100g of leaves per litre of boiling water (one cup 3 to 4/day)
Healing plants
Calendula mother dye: Calendula or garden care dye is to be used diluted in water because of its alcohol content. The calendula has soothing, antiseptic and anti-inflammatory properties (by saponosides, the carotenoids contained in the Calendula flower). It can be used to relieve irritation and itching. Mucilaginous substances (pectin and rubber) have moisturizing and softening properties.
For more information, check out our Souci, calendula advice sheet
Propolis: Oropolis®: to suck to increase efficiency. For more information, see our advice sheet: Propolis

Licorice is used in gargles and mouthwashes in case of sores or stomatitis. For more information, check out our licorice tip sheet

Sage is an excellent healing process. Apply a sage infusion locally. For more information, check out our advice sheet: sage
Analgesic and anti-inflammatory plants
Indicated when pharyngeal pain does not give way to local treatment:
Anti-inflammatory plants: Harpagophytum, Cassis (leaf), Canadian Orchard, Egmoine.

Anti-inflammatory and antipyretic plants: Queen of the meadows, Willow bark
Egret (Agrimonia eupatoria) is a very interesting anti-inflammatory plant in angina. It is used as a decoction (gargarisms): 30 to 50 dry plants or 50 to 80g of fresh plant are used to simmer for 5 to 6 minutes, to allow the tannins time to spread more. Then we stop the fire, we cover it up and let it infuse for 10 minutes. Then you can add 5 g of rosat honey after filtering. In case of strong angina, one in three sips can be drunk during gargle
Essential oil plants:
Essential oil plants are indicated for their antiseptic action:
Oregano

Scots pine,

Savory

Serpolet,

Thyme Thyme Arkogélules®: 1 capsule with 3 meals and

Eucalyptus for their effect on the airways
Plants that process hoarseness
Erysimum (Sisymbrium officinale)
The aerial parts of the officinal erysimum, (also called Grass to the singers) are used against hoarseness or aphony, during laryngitis and pharyngitis as well as as sputum and mucolytic in bronchitis. This effect is due to the glucosinolates present in the plant. It is the favorite plant of avocados and singers….Ex use for an adult or a teenager in case of hoarseness or risk of hoarseness on an irritated throat: Grass with singers (Erysimum officinale) aerial parts Mother dye (TM ) 50 drops three times a day in a little water
Phytolaque (Phytolacca decandra)
Gargarisme with, for half a glass of hot water: 1 teaspoon of Phytolacca decandra TM and two drops of HE Eucalyptus citriodora
Angins and gemotherapy
Anti-inflammatory mg
Ribes nigrum (Cassis) is interesting against the primary phase of inflammation (especially if it is of allergic origin). Blackcurrant buds stimulate corticosterrenal, activate macrophages and therefore allow the overall maturation of the immune system in the prevention of chronic diseases. Because of its "cortisone like" action, it is best to take it in the morning when you wake up to respect the chronobiology of the adrenal.
Rosa canina (Eglantier): young shoots treat repeated infections with localized inflammations (otitis, rhinopharyngitis, sinusitis, tracheobronchitis…). Young shoots regenerate the mucous membranes whose recurrent infections are the site, they are also immunostimulating (increase in the level of gammaglobulins) provided they are taken over a fairly long period of time; 3 to 6 months.
Dosage:
In children, the usual dosage is 1 drop per kg of body weight per day of Bg MG 1DH (bourgeon, 1DH glycerinated macerate)
In adults, the dosage is 50 to 100 drops per day of Bg MG 1DH (1 to 3 drops per kilo of body weight)
Make a 3-week cure with a 15-day break between 2 cures.Dilute in a large glass of water and preferably before meals. In case of digestive intolerance (colic, diarrhea…), it is advisable to take this treatment in the middle of a meal
Sore throat and aromatherapy
Counter indicated in children under 12 years of age, not recommended during pregnancy and breastfeeding
Ready-to-use
Throat Spray
Breath® throat spray,Phytosun aroms® spray,Puressentiel® Respiratory Spray Gorge…
Essential Oil Throat Sprays contain essential organic essential oils of Thyme to Thymol, Girofle, Tea Tree, and Peppermint known for their sanitizing and refreshing virtues and organic extracts of honey, Calendula, Mauve and Propolis traditionally used to soften and soothe the throat.
From 6 years or 7 years depending on the manufacturers, spray in the throat 3 to 6 times a day.
Do not in pregnant or lactating women.
Throat syrup
Phytosun aroms drinkable solution...
These syrups are composed of essential oils, but also plants known for the comfort of the throat and airways (Mauve, Pin, white broth).
Not recommended for pregnant or lactating women
Capsules or capsules with essential oils to swallow, lozenges to suck
These complexes include antiseptic essential oils that contribute to the sanitation and optimal functioning of the respiratory system (nose), and soothe the throat.
Adult-only food supplement
Aroma Express Capsules® Respiration, Olioseptil® Bronches, Phytaroma® G.A.E, PURESSENTIEL® Respiratory bio dietary supplement with 5 essential oils, PURESSENTIEL® Respiratory Pastilles with 3 aromatic honeys…
Hoarseness and aromatherapy
Olioseptil®sirop
Pharmacy Tip: When to see a doctor?
Angina

Hoarseness, voice extinction

Children under 10
Angine that has lasted for more than 2 days
Very high fever > 38oC for more than 48 hours
Intense pain and/or Persistence of pain after a few days of treatment. If it's not enough to eat.
Earache, lymph nodes, nasal haemorrhage
Chest burns or acid upwellings accompanying sore throat
Previous history of nephritis, acute rheumatoid arthritis.
Purulent conjunctivitis, palpebral edema, digestive disorders, rash

Dysphonia in a child: risk of intra-laryngeal foreign body → medical emergency
Persistence of symptoms beyond 15 days
Permanent voice change,
In case of continuous hoarseness in a smoking patient.
Pain and discomfort with swallowing
Dyspnea (difficulty breathing) → medical emergency
Emmanuel.