What are the benefits of clay for your health?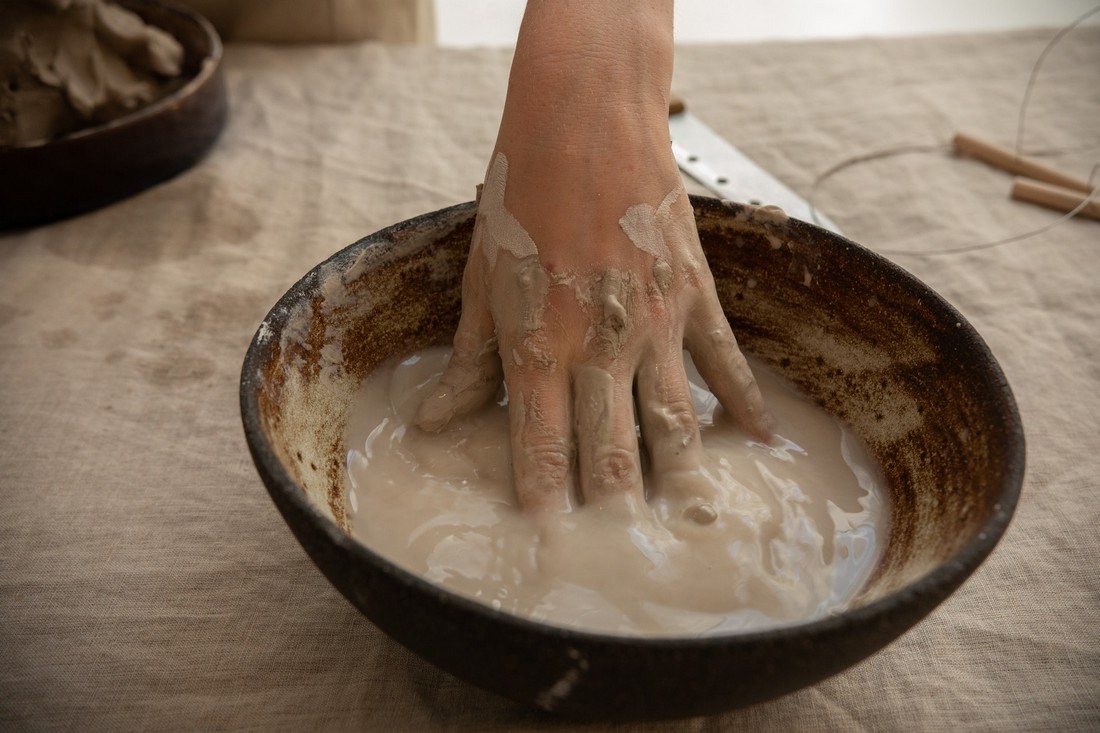 Often present in the vicinity of water , clay is considered an indicator of its presence in nature . With a history closely linked to water, people have instinctively appropriated and integrated it into their lives and cultures. It is one of the oldest materials used by humans , whether in the field of art , well-being or beauty . It should also be recognized that animals have also learned to take advantage of the benefits of clay . Its virtues have been unanimously recognized for millennia. Our affinity with the latter is evolving thanks to scientific studies which have allowed an increasingly correct interpretation of its properties. Today focused on products of natural origin , modern medicine gives more credit to this ancestral product .
Its composition
The clay is a sedimentary rock with numerous beneficial properties both on beauty than on health . Its use can be done internally or externally . Clay is mainly composed of silica . It can also contain other minerals and trace elements such as magnesium , calcium , aluminum , iron , phosphorus , sodium , potassium… Other elements also enter in its composition such as: copper , zinc , cobalt , manganese , selenium… Its richness in components generally depends on the environment which formed it. It can be presented in different colors : green, white, pink, red, yellow… This variation results from its iron oxide concentration .
The use of clay in external care
Since the dawn of time, clay has been used to heal wounds and minor ailments of everyday life. Indeed, a clay with a reduced iron content , such as green , is effective in treating and healing superficial wounds . Applied to a wound, even an infected one, it will cleanse it by absorbing impurities : pus, secretions, bacteria… Its restorative properties will then help the cells to regenerate quickly.
The spa and thalassotherapy centers make clay a flagship treatment. It can be used as a poultice or in hot clay sludge. This mineral very rich in trace elements , mixed with thermal water , contributes to attenuate and relieve effectively the pains of rheumatic origin . This is mainly due to its anti-inflammatory , analgesic and remineralizing properties . Joint pain, osteoarthritis, low back pain , back pain , … clay can guarantee soothingconsiderable. It is also used to reduce muscle soreness and fatigue. In addition, its purifying and detoxifying properties make clay a key element in natural cosmetology .
The different clays:
The green one
:
The green clay , for example, the most popular of all is the ally of problem skin . Its aluminum , silica and lime content will cleanse the skin . The ready-to-use superfine Green clay from the Cattier house is used as a beauty mask and as a poultice . It is ideal for combination to oily , even acne-prone skin . It absorbs excess sebum and regulates its secretion. While eliminating toxins and impurities , it revitalizes the skinand promotes cell renewal .
The red
:
The red clay , however, is perfect for treating blotchy skin . Rich in iron oxide, it improves blood circulation and fights against irritation. Used as a mask once a week or as a poultice , red clay restores radiance to the face for a guaranteed healthy glow .
The white one
:
The white clay , in turn, is more suitable for dry and sensitive skins. Like green and red, it has a healing action. This particularity allows it to repair delicate , mature skin or even atopic skin . Our hair also benefits from the virtues of clay . Known for its softness , it is used as a hair mask to purify the hair and restore vigor . It is used in the manufacture of natural deodorants . Indeed, itsabsorbent properties limit perspiration.
The rose
:
Following a subtle mixture of white clay and red clay , the pink clay is very rich in trace elements . It is particularly suitable for sensitive and delicate skin . At the same time purifying , softening and soothing , it can be used as a mask for the face and for the hair .
The yellow
:
The yellow clay is the ideal for mature skin . Its magnesium and manganese content helps stimulate cell oxygenation and thus tone the skin.
The use of clay internally
The geophagia is an instinctive ancient practice that involves ingesting land , especially clay . It can now provide more scientific approaches and justifications . In antiquity and in the Middle Ages, clay was used as a very effective natural poison control . Indeed, clay directly interacts with the digestive mucous membrane and reinforces its barrier against alkaloids and toxins .
Nowadays, the ingestion of clay is commonly done to treat many gastrointestinal pathologies . It is an effective way to cleanse the digestive system by ridding the intestine of toxins, worms and bacteria. It acts without destroying the intestinal flora, but on the contrary, by restoring the intestine. Its absorption capacity allows to remove gases and carries with it the removal of toxic substances . Its healing and regenerating properties also make clay a great ally against ulcers .
Clay is renowned for its remineralizing effect on the body. Rich in minerals such as iron, calcium, potassium, silica and magnesium, clay is recommended as a prevention or remedy for specific deficiencies . Suspended in water, it has a strong similarity to thermal water , which is also responsible for products present in geological layers.
Friend of fragile intestines , joint pain reliever , pearl of cosmetics , clay is a real treasure of nature . However, although it is a natural remedy, overdose can lead to dangerous effects . Internally, it is not recommended for people with constipation and may worsen high blood pressure . To be used in moderation and above all, always seek the advice of your practitioner before any use.