How to choose the shower gel for your child?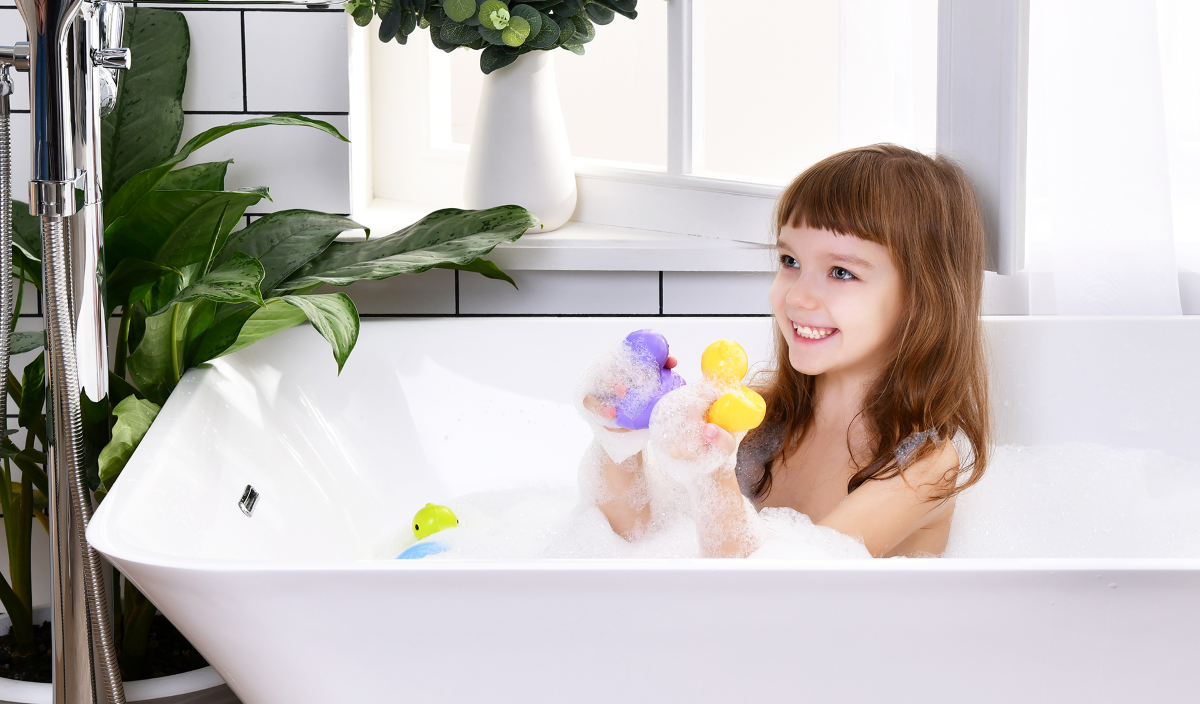 Bath time is certainly one of those sweet evening rituals that we share with our sparkling little face. These beautiful splashes followed by cries of joy, these exchanges of glances both tender and complicit are indeed excellent ways to warm our hearts at the end of the day. However, we must not forget that, more than a moment of relaxation , the bath remains a gesture of hygiene and care . To ensure optimal comfort and hygiene for our child ; it is important that we carefully choose products that respect your skin. But finding the perfect shower gel that combines softness, safety and pleasure for the senses has never been an easy task.
We often find ourselves scrutinizing the compositions, hesitating about the packaging, remaining uncertain about the fragrances… but also discovering that the most economical is not often the most practical. In short, we get lost in these thousands of products offered on the market.
Fortunately, the world of hygiene and care is now more meticulous, especially when it comes to products dedicated to toddlers . It now offers washing treatments that are more and more respectful of their particularly sensitive skin and scalp. The children's shower gels presented in pharmacies, for example, are rather accessible, pleasant to use and above all of good quality. The most prized by our parents are generally those formulated to wash both hair and body, thanks to their practicality.
Gentle on the hair, the skin, but also the eyes!
After a day full of discovery, extend the adventure in the bathroom by opting for Weleda Kids 2 in 1 Shampoo & Shower Cream . Its colorful tubes, each decorated with an emblematic animal of the aquatic environment will amuse and develop your child's imagination while taking care of his delicate skin . Fruity orange, sparkling lime or fresh mint, its gourmet and joyful fragrances are 100% natural. Like all Weleda products; A pioneer of natural and organic cosmetics since always, the reliability and effectiveness of this little jewel formulated without soap is no longer to be proven . Does not irritate the eyes !
An enchanted world, enveloped in care and well-being
Transport your little princess to a magical world with the divine scent of raspberries with the Shower Shampoo for children from Kneipp Kids. Its pretty playful pink packaging brings that little something that our little ladies love! As for its composition, it is top! Indeed, the softening, balancing and protective properties of jojoba oil are associated with the regenerating and soothing virtues of calendula extract to gently cleanse their hair and fragile skin. Raspberry extract, for its part, provides this soothing and nourishing effect, recommended for the care of sensitive skin.
The specific needs of dry skin prone to atopy
A-Derma laboratories have selected Rhealba® Oats among many others to develop its Exomega Control Emollient cleansing gel for hair and body . Known for its unrivaled dermatological properties ; this component is perfect for the daily hygiene of dry skin with atopic tendency in infants and children. Day after day, baby's sensitive skin is soothed, hydrated and protected. Its non-slip texture rinses easily while leaving a light velvety fragrance.