Rose Geranium essential oil, symbol of immortality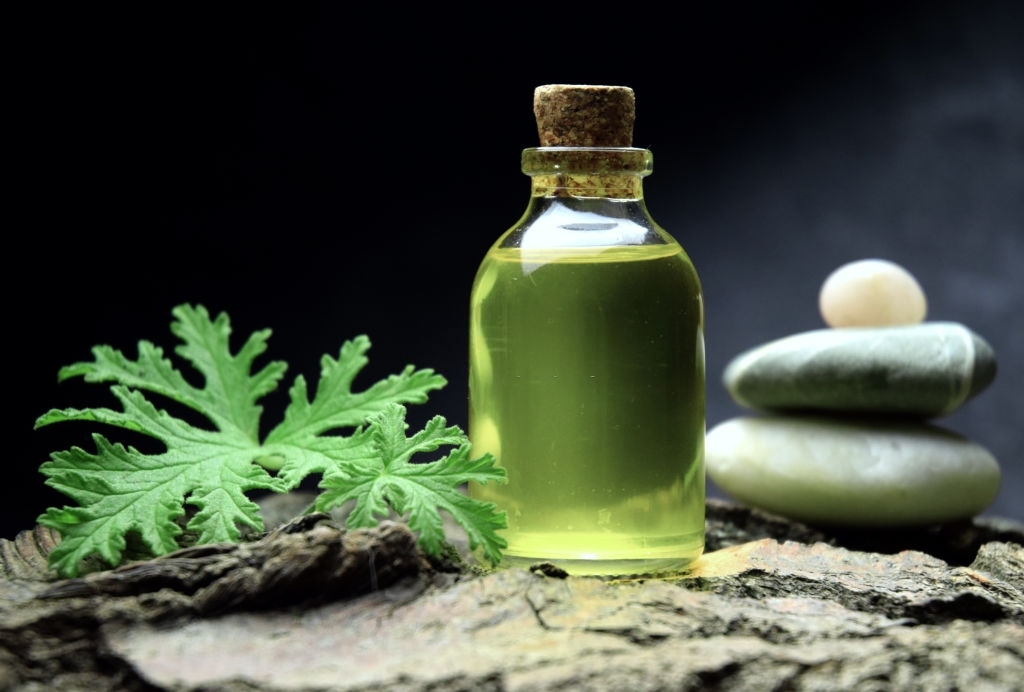 Rose Geranium is an aromatic perennial bushy plant with a branched habit. Its name comes from the Greek " perlagos " which means " stork " because its fruit is reminiscent of the beak of a stork. " Graveolens " translates into Latin as " whose smell is strong ". These perfume species are the result of horticultural work and multiple and repeated hybridizations . Thus, from one variety of geranium to another, by very lightly crumpling the leaves, we perceive a different scent: lemon, orange, pine, apple, mint, apricot, carrot, eucalyptus, cedar, even walnut. coconut or chocolate.
A little history
In Celtic times, the geranium was seen with mistletoe as a symbol of immortality and therefore was an offering to the gods . Known as balcony ornaments, only a handful of fragrant geraniums are distilled as well as used for their essential oil ( roseum, odoratissimum, asperum ). Very popular in cosmetics and perfumery, essential oil of rose geranium is exploited in many countries, but the most popular is that of the Bourbon type, produced in Madagascar.
The Pelargonium x asperum cv Bourbon is the name given to Pelargonium graveolens product on Reunion Island, formerly known as Bourbon Island. It was originally planted around houses in order to remove otherwise mosquitoes .
If the fragrant geranium has, by the hand of man, diversified its scents, it has not been confined to South Africa alone. Indeed, it is found on the island of Reunion (where it has been cultivated since 1865 as part of the cultivation of perfume plants … It is he that is known under the name of Bourbon geranium). It is also present in Madagascar, North Africa (Morocco, Algeria, Egypt) or even in Guinea … Acclimatized in Spain and Italy, on the other hand, its cultivation in France has ended in failure.
The Reunionese experience gave the idea of ​​cultivating geranium for the perfume industry in the south of France (Grasse and its surroundings) at the end of the 19th century, but due to too low returns in relation to investments, the project was abandoned. Finally, in China (Yunnan), there is a geranium whose essential oil is richer in citronellol , which makes it a somewhat different product.
Antimicrobial property:
The essential oil of rose geranium is antibacterial against Gram positive bacteria ( Staphylococcus aureus ) resistant to methicillin and Gram negative ( Pseudomonas aeruginosa ) often responsible for nosocomial diseases. It has a synergistic effect with norfloxacin , thus making it possible to limit its toxicity, as well as with ciprofloxacin . This geranium also plays a role against bacterial biofilms.
Antifungal , geranium rose potentiates the effects of amphotericin B and ketoconazole on Aspergillus.
The essential oils of rose geranium and lemon can also help prevent the invasion of SARS-CoV-2 in the human body.
Antispasmodic property:
Stimulating the liver and pancreas , geranium essential oil is antispasmodic and, in fact, muscle relaxant .
Hemostatic and tonic properties of the skin:
The essence of rose geranium is a major essential oil for the skin. Skin and lymphatic tonic , it is also regenerating, skin astringent, hemostatic and healing .
Repellent properties:
In external use, especially in diffusion, it is an oil which repels mosquitoes ( citronellol ) and repellent against Aedes aegypti , like the active constituents of the essential oil of garlic ( diallyl trisulphide and diallyl tetrasulphide ).
Other properties:
Stimulates venous and lymphatic circulation
Ostrogenic properties
Antioxidant as well as anticancer properties
Does the essential oil of Geranium rose require precautions for use?
Contraindicated in pregnant or breastfeeding women
Tachycardic in prolonged use
Contraindicated in children under 8 years old
Contraindicated in cancer or hormone-dependent history
Medical bibliographic sources and clinical trials :
Clementine. M.
Naturopath – Aromatherapist / Herbalist – Phytotherapist
Consultant in Clinical Phyto-aromatherapy and Ethnomedicine