The Milk Thistle, symbolic of the mystical Rose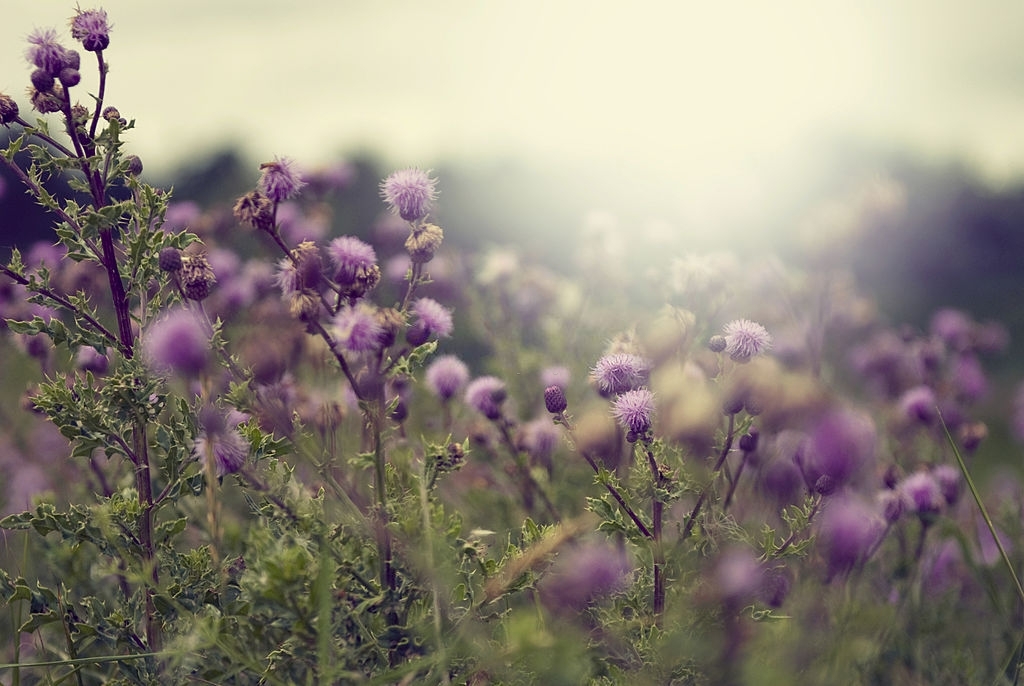 Much more used by popular medicine, milk thistle will have to wait until the beginning of the 16th century before therapists finally take it into consideration . However, from the eighteenth century, the virtues of milk thistle, as diverse as they are, were thrown away by practitioners. Whatever. The twentieth century will restore the image of this repudiated plant.
A little history
The name milk thistle comes from a legend that dates back to the Middle Ages. Fleeing the persecutions of Herod , the Virgin Mary , wanting to protect her child, is said to have hidden under a grove of thistles. While breastfeeding, a few drops of milk fell on the leaves of the plant, hence its characteristic white veins and its name milk thistle. This legend may have been at the origin of its traditional galactogenic indication , unless it is the opposite, since milk thistle promotes the production of prolactin.
Paracelsus advocated it against "internal burns" and the English botanist John Gerard for "diseases of melancholy". The root, aperitif and pectoral , as well as the bitter tonic leaves were praised during the Renaissance against various ailments. Matthiole , much more precise, also announces hydragogue, cholagogue and diuretic . Today, traditional Chinese medicine indicates that milk thistle invigorates the energy of the meridians of the Liver and Kidneys, this says a lot about the insight of the Tuscan doctor, having probably observed the action of milk thistle on the states congestive and especiallyits circulatory capacity in many ways.
What are the main pharmacological properties of milk thistle achenes?
Hepatic property:
Hepato-protective action:
The silymarin protects the liver by different mechanisms :
→ Stabilization of the hepatocyte plasma membrane. It inhibits the absorption of certain toxins such as, for example , phalloid amanita , by preventing their attachment to the cell surface and by blocking the membrane transport system of these poisons.
→ The trapping of many free radicals through the formation of more stable and less reactive compounds. It also helps maintain the level of glutathione and superoxide dismutase in the liver .
→ The increase, in vitro , of the synthesis of hepatocyte proteins thanks to the stimulation it exerts on RNA polymerase 1 which is involved in the synthesis of ribosomal RNA. Ultimately, this would increase protein synthesis, thus helping to increase the liver's regenerative capacity .
A meta-analysis of randomized controlled trials conducted in 2019 with 1198 people with tuberculosis not only showed that milk thistle silymarin exerts prophylactic activity against hepatic damage induced by anti-tuberculosis drugs, but that it also improves liver function in treated patients.
Action on hepatic steatosis:
In an in vivo model of non-alcoholic fatty liver disease (NAFLD), the administration of a hydroalcoholic extract of fresh milk thistle fruit decreases the severity of hepatic damage , as well as the inflammation and destruction of hepatocytes . Another study using a different model of SHNA also showed that administration of silybin reduced steatosis, inflammation, lipid peroxidation, insulin secretion, with recovery of almost normal hepatic weight. .
Protective and curative action against toxins:
Taking silybin significantly improves the state of health in people poisoned by phalloid amanitis after failure of a standard treatment. The silymarin protects fact the liver against damage induced by paracetamol, azidothymidine (AZT), acetaminophen, ethanol and D-galactosamine.
By promoting the membrane expression of the bile salt export pump which allows the elimination of bile, silymarin protects in particular in vivo against cholestasis induced by estrogen.
Gluco-lipid metabolic property:
This effect of milk thistle could be explained on the one hand via the agonist action of isosilybin A on PPARγ (transcription factor involved in the regulation of gluco-lipid metabolism) and on the other hand, via the action of silybin which decreases the insulin resistance of muscle cells.
In vitro , silybinin regulates lipid metabolism , promotes thermogenesis and browning of fat cells, which suggests an interest of milk thistle in the management of overweight and obesity .
Antioxidant and anti-inflammatory properties:
The antioxidant and anti-inflammatory properties of silymarin are believed to be responsible for its protective actions. Several mechanisms are involved, including an anti-free radical and chelating action of free iron and copper, as well as stimulation of heat shock proteins and sirtuins.
In vivo , oral administration of silymarin before restraining stress makes it possible to reduce hepatic damage by reducing oxidative stress and the inflammatory response.
Nephroprotective property:
The silymarin protects against nephropathy induced by contrast media used in radiology, as indicated by a study in vivo of 2019. This compound indeed preserves kidney function, reduces systemic and renal oxidative damage (genotoxic properties and anti anti- apoptotics, respectively) in a dose-dependent manner, and is found to be superior to conventional treatment with N-acetylcysteine.
Property on the central nervous system:
A 2019 in vivo study showed that silibinin prevents impaired learning and memory caused by excessive exercise, and further reduces apoptosis and senescence of hippocampal cells.
The silymarin has in particular an antidepressant effect related at least in part to its action on the production of nitric oxide (NO).
Are there any precautions for use with Milk Thistle?
Contraindication :
Contraindicated in case of obstructions of the bile ducts
Caution in case of allergy to asteraceae
Research carried out in pregnant women and in children under the age of 18 means that to date there are not sufficient data to exclude any risk associated with the use of this plant. Consequently, as a precautionary measure, the use of medicinal products containing this plant is not recommended by the EMA in these specific cases. It therefore recommends a maximum duration of treatment of two weeks. Milk thistle has traditionally been recommended for breastfeeding women, and to date we have no medical reports of any adverse effects in this case.
Precautions for use:
The concomitant use of synthetic diuretics is not recommended, except medical advice
Drugs interactions :
The anti-diabetic effect of silymarin could be added to that of other plants ( ginseng, cinnamon ).
In the event of diabetes treated with synthetic hypoglycemic drugs, medical supervision is required, so that the doctor can monitor blood sugar levels and adjust, if necessary, the dosage of conventional drugs.
Milk thistle could nevertheless interact with certain chemotherapy drugs.
Caution in the event of co-administration with medicinal products with a low therapeutic margin.
Monitor possible drug interactions, silymarin decreases the activity of cytochrome P-450 (CYP) enzymes, the UDP-glucuronosyltransferase (UGT) enzyme and reduces the transport of P-glycoprotein (P-gp)
Silymarin in particular reduces the activity of the enzyme CYP3A4 and the activity of uridine diphosphoglucuronosyl transferase (UGT1A6 / 9), so it can alter the hepatic metabolism of certain drugs, their pharmacokinetics and thus lead to increased toxicity, but other work shows that milk thistle extract has no significant influence on the activities of CYP1A2, CYP2C9, CYP2D6 or CYP3A4 / 5
How to take Milk Thistle and in what dosage?
The active ingredients of milk thistle are poorly soluble in water. Also it is preferable to turn to an extraction using alcohol as a solvent and to use the plant in the form of tablets, capsules or standardized liquid extracts.
Dry form:
As a food supplement, alone in the form of a standardized extract of a fresh plant, a dry or standardized extract, a powder, in capsules or tablets, or combined with other plants.
Liquid form:
Standardized fluid extract of fresh plant : 5 ml twice a day in a glass of water.
Hydroalcoholic fluid extract : 30 to 50 drops, 3 times a day. Alcohol being harmful, it is not recommended in the event of liver damage. Milk thistle should not be used in this form to treat liver disease.
Decoction , for non-therapeutic purposes: 20 g of seeds for 1L of water, to boil for 30 minutes. One cup before each meal. (The very low water solubility of flavonolignans makes anti-hepatotoxic activity unlikely in milk thistle infusions.
To fight against insulin resistance as well as type 2 diabetes.
In case of hepatopathy with or without hepatocellular insufficiency. Hepato protection during exposure to toxins (especially certain drugs), increased liver enzymes.
In non-alcoholic fatty liver disease.
In prevention of vascular risk (cardiac, cerebral) after 60 years in a metabolic context (insulin resistance).
Against dyspeptic disorders of hepatobiliary origin, as well as nausea.
Medical bibliographic sources and clinical trials :
Vargas-Mendoza N. et al., Hepatoprotective effect of silymarin, World J Hepatol., 2014
Aghazadeh S. et al., Anti-apoptotic and anti-inflammatory effects of Silybum marianum in treatment of experimental steatohepatitis, Exp Toxicol Pathol., 2011
Pradhan SC, Girish C., Hepatoprotective herbal drug, silymarin from experimental pharmacology to clinical medicine, Indian J Med Res., 2006
Pferschy-Wenzig EM et al., Identificatiton of isosilybin a from milk thistle seeds as an agonist of peroxisome proliferator-activated receptor gamma; J Nat Prod., 2014
Barbagallo I. et al., Silibinin Regulates Lipid Metabolism and Differentiation in Functional Human Adipocytes, Front Pharmacol., 2015
Surai PF et al., Silymarin as a natural Antioxidant: An Overview of the Current Evidence and Perspectives, Antioxidants, 2015
Tao L. et al., Prophylactic Therapy of Silymarin (Milk Thistle) on Antituberculosis Drug-Induced Liver Injury; A Meta-Analysis of Randomized Controlled Trials, Can J Gastroenterol Hepatol., 2019
Brantley SJ, Oberlies NH, Kroll DJ, Paine MF. Two flavonolignans from milk thistle (Silybum marianum) inhibits CYP2C9-mediated warfarin metabolism at clinically achievable concentrations. J Pharmacol Exp Ther. 2009
Wu JW, Lin LC, Tsai TH. Drug-drug interactions of silymarin on the perspective of pharmacokinetics. J Ethnopharmacol. 2009
Clementine. M.
Naturopath – Aromatherapist / Herbalist – Phytotherapist
Consultant in Clinical Phyto-aromatherapy and Ethnomedicine