Tarragon essential oil, from a simple aromatics to the apothecary's lair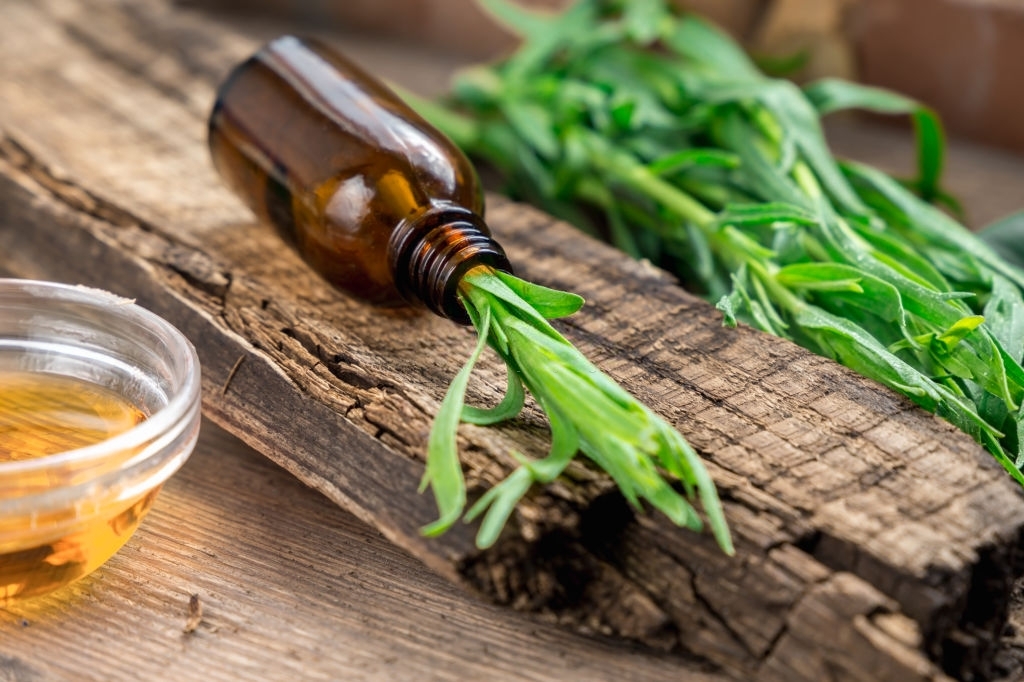 Tarragon was imposed on Europe during the Crusades. But it has a long tradition as a medicinal plant and spice in Asia and Siberia for a long time . In addition to having entered the culinary grimoires, he entered the lair of the apothecary and the mastermind from the Middle Ages.
A little bit of mythology
Tarragon is a mugwort with the scientific name of Artemisia dracunculus . Artemisia is indeed a genre created in 1753 by Carl von Linné (1707-1778). It evokes the goddess of the hunt Artemis from Greek mythology ( Diana among the Romans), who was also associated with the moon and considered to be the protector of women.
A little history
This magnificent aromatic herb is native to the steppes of Siberia and China . After having emigrated to the Middle East, it was in the Middle Ages that it was brought back to Europe by the Crusaders who also used it in the form of liquor around 1548. We see it appear in France in the 16th century among the herbs cultivated by monks. It is cited by Gérard in his herbarium in 1597.
The serpentine shape of the tarragon root led herbalists to believe that it could cure poisonous animal bites, according to the signature theory . From there came the Greek term drakon (dragon), the Arabic tarkhum (small dragon) and the Latin name of the species: dracunculus (small dragon). It is also called acre mugwort, which reminds us that it is part of the same family as this plant in the same way as wormwood or genepi.
Antibacterial properties:
The essential oil of tarragon is anti-infectious urinary , antibacterial on Staphylococcus aureus and Escherichia coli, as well as antifungal on candida.
Digestive properties:
Digestive stimulant , this essential oil is also anti-fermentation as well as intestinal antiseptic . Tarragon has also been shown to be stomachic, appetizer, and carminative .
Antiallergic property:
Also antiallergic , the essential oil of tarragon is therefore antihistamine and anti-inflammatory .
Activities on the central nervous system:
Neuromuscular antispasmodic , this essential oil is found in fact anticonvulsant and sedative . It is therefore a psycho-emotional tonic oil .
Its anticholinesterase activity is interesting; it makes it possible to increase the cholinergic activity at the level of the central nervous system. It is therefore used to treat Alzheimer's type dementia (there is a decrease in cholinergic neurons in the cortex and hippocampus in patients with this type of dementia). Cholinesterase inhibitors cause an increase in acetylcholine levels at neuronal synapses by inhibiting the enzyme responsible for acetylcholine degradation thereby promoting increased cholinergic transmission.
Does Tarragon essential oil require precautions for use?
Contraindicated in pregnant or breastfeeding women

No prolonged use, do not exceed 40 mg maximum, i.e. 2 drops per day for 2 to 4 days, or 20 mg per day for 2 weeks of treatment

Do not exceed 14 days of treatment

Skin irritation (dermocaustic) possible in pure form, dilution required

Risk of oral hepatotoxicity

Reserved for adults

Not recommended for heavy smokers and for people with liver problems

Not recommended in case of anticoagulant treatments or coagulation disorders

Be careful with all drugs likely to potentiate the risk of bleeding (aspirin, oral or injectable anticoagulants, blood thinners)

Risk of interaction with oral antifungals such as

econazole

, etc.
Medical bibliographic sources and clinical trials
:
Clementine. M.
Naturopath – Aromatherapist / Herbalist – Phytotherapist
Consultant in Clinical Phyto-aromatherapy and Ethnomedicine